AJ really enjoys math. She likes to figure out problems and to learn new concepts. The problem is that she hates to practice what she knows and she really doesn't like to write out problems. I have found that she really excels when she can practice math concepts in a non traditional way. Her favorite way to practice math is by playing a game. We often use dice and cards to practice math facts and to practice things like adding and subtracting negative numbers. The problem we run into while using playing cards to practice math is that they only go from two to nine. Sometimes we get creative and use cards from other games or make our own, but it isn't as easy.
We were recently given the chance to review a new game called Sunya – The Magic and Wonder of Math and Science Multiplying & Dividing from Sunya Publishing. I was excited to try it out, because it is often hard to find math supplements for older kids. This game is ages nine and up and can be played with one to five players.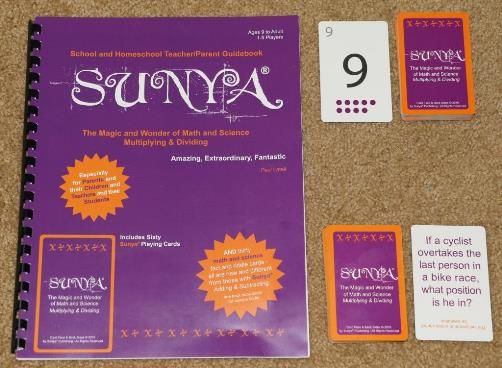 The game comes with sixty playing cards. The cards include; the numbers zero through nine, wild cards, a card with the multiplication symbol, a card with the division symbol, and a card with the equal sign on it. Along with the playing cards, there is also a set of thirty math and science fact and riddle cards. We also received a number line and a 25 page guidebook.
The cards are all well made and they seem to be sturdy so I think they will last for a long time. The cards are very easy to read. The playing cards have the number or sign written in a large font on the center of the card. On the bottom of the cards there are the same number of purple dots and on the top left corner there is a gray number. I enjoyed that it was simple to see what number was on each card from different angles.
The math and science fact cards have a variety of jokes, riddles, logic problems, math problems, and science facts. Most of them have the answer written in small orange letters upside down on the bottom of the card.
There are a few different ways to play and a lot of rules. There are so many options and the instruction manual is more like a book, that it is easy to become overwhelmed. But it is honestly a simple game to play!
You first need to decide to play the multiplication or division version. Then a sample number sentence is played up to 9×9=81 and everyone is dealt cards. So if the sample sentence is 3×2=6 then the player to start the game picks a card and tries to change the number sentence to another correct one. For example, if a player had the numbers 189 in their hand they could change the sentence to 9×2=18. It's easy! The math and science fact cards come in to play after a player goes out. The winner gets to read a card to the other players.
The day that the game came in the mail we had company and I thought it would be great to try out the game. They all thought it sounded like too much thinking and declined to play. I love logic and number games so I was a bit disappointed that no one wanted to play, but it wasn't the first time that they turned down a chance to try out a new game.
AJ and I have played the game a few times since, but I have found it to be slow as she takes a long time to figure out numbers that will easily work to change the number sentences. Helping each other is encouraged, but she likes to figure things out for herself. She is learning a lot and I can see her trying to work through different sentences trying to see which if any will work. I think it would be a lot of fun to play with fellow math lovers like myself. AJ thought it was an ok game but said it was a little too hard. We made a few changes to the game (like being able to reposition any number and to change between multiplication and division in the same game) and it made the game more enjoyable to AJ.
I think it is a fun way to practice math, but it does cause to student to be actively learning. I think the math and science cards are completely unnecessary for game play. Instead I gave them to AJ to read and play with.
Overall I think it is a solid game but that the game play tends to be slow and even challenging due to so many rules. I think there are too many examples in the rule book and that it is too big overall. Most people want to jump into a game and have fun and sorting through the rules and directions can be time confusing. If you are looking for a fun game to relax and play then this isn't what you want. But if you want a game to make you think and one that will strengthen your math skills then this would be a great game to buy as soon as it becomes available.