I love when I am able to make learning fun! Recently we were given the opportunity to review a game from SimplyFun, Shape Whiz. We had a blast playing and learning geometric topics at the same time!

Shape Whiz
is a card game for two to four players where speed and geometry come together. It is recommended for kids ages 10 and up, but I feel an 8 year old would be able to catch on fairly easily. It is a quick game, most of our games lasted about 10 minutes.
The object of the game is to be the first player to play all of their personal shape cards.
Each player is dealt a number of shape cards. The box has 45 blue shape cards and 35 green shape cards. The blue cards have simple shapes where the green cards have complex shapes. You have the option of just using the simple shapes or using both sets of cards. We found that using both sets actually made for an easier game.
The front of the shape cards feature different sized shapes. On the back of the card all of the shape properties are listed. It includes information about the shape's area, perimeter, lines of symmetry, angles, parallel lines, and number of different length sides.
In the middle of the table you place the stack of 40 double sided whiz cards. The Whiz Cards have a sample shape and then a specific geometry question listed. The card might say "Total Area Less Than Or Equal To 3", "One Line Of Symmetry", or "Total Perimeter Greater Than 10".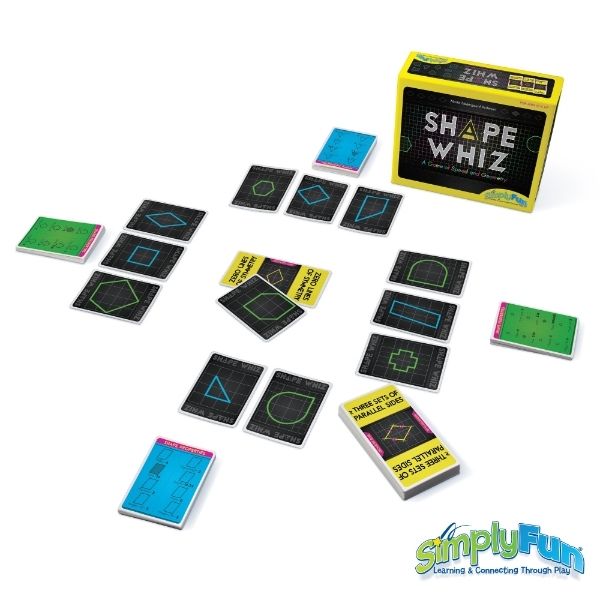 To start the game you flip over a Whiz Card. Each player checks the cards in front of them and the cards in front of the other players to see if they can find a card that matches the properties on the Whiz Card. The best part is that if there are any disputes over how many 90 degree angles a shape has, all you have to do is flip over  the card and check.
It is fast paced and once you get going you start to learn how to figure out the approximate area and perimeter of shapes very quickly. AJ would look at the back of her cards constantly in the beginning to help her figure out the properties of her cards, but by the fourth time we played she was able to figure a lot of them out on her own.
There is a booklet included in the box that explains all of the symbols used in the game. AJ was introduced to a few new symbols including the approximate sign. It also includes how to find the area and perimeter of different shapes.
Since it is such a quick game with very little set up, we were able to play this game quite a bit. Most of the time it was just the two of us, but we also had AJ's grandma play a few hands with us. She said, "Wow! This game sure makes you think, but it's pretty fun." It has been AJ's pick for game night ever since we tried it out.
We ended up making one switch to the game the first few times we played to make it a little less competitive. Instead of being able to play the cards of other players, we decided to only play our own cards. If you are playing with a younger child I would recommend this little change to help them get use to the game.
It has definitely improved AJ's knowledge of geometric shapes. We both enjoyed playing it and I am planning on using the cards to help teach when we get to the next geometry unit in math.
If you are looking for a fun, fast paced game that will help your child master some geometric principles, I would recommend Shape Whiz!