AJ's favorite subject is math, so when I was given the opportunity to review the Family Math Package from A+ Interactive Math I thought it would be a hit. I didn't expect AJ to grow leaps and bounds with the program, but she did! We received a six month subscription to the Family Math Package.
What is the A+ Family Math Package?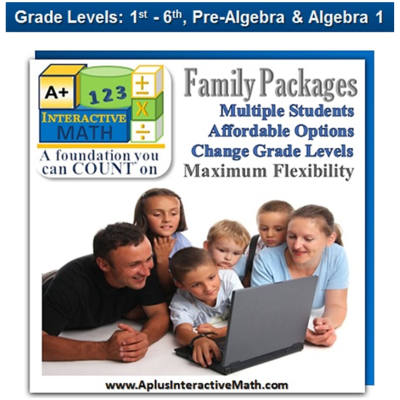 A+ math is a complete online math program that offers a few different options. The one AJ and I reviewed was the Family Math Package. With that package we had access to math from grades K1 to Algebra. Depending on how you choose to use the program it can be completed completely online, or you can print off worksheets and exams. Multimedia lessons, an interactive quiz, and worksheets, ensure that your child understands the topic. There is also a PDF math book available if you want to read through the lessons, or use it for extra study practice.
You can switch grade levels at any times, and packages are available for use with up to ten children! Since it is an online program you will need high speed internet access to use the program. It works with most browsers on both PC and MAC.
How did we use it?
Since we haven't been following a typical course of study for math, I wasn't sure where to place AJ. She is in 6th grade, but is ahead in a lot of areas and behind in others. I decided to try her in the Pre Algebra section, knowing that we may have to go down a level if she found it too difficult. That is one of the amazing things about the Family Math Package, you aren't stuck in one grade level.
There is both a student account and a parent account. I signed into my account, looked around, watched a few lessons, and was ready to start. Everything was very self explanatory, and there was even a big red button on the sign in page that tells you how to get started.
Once AJ signed in we decided to start with the tutorial to make sure she understood how to use the program. Then she started in with the first unit, Number Review. The lessons were short, to the point, and very well explained. The Number Review unit was all about different types of numbers; whole numbers, integers, real numbers, and others. We tried learning the difference between the number types in a different math program and she just didn't understand the concept. I was a little apprehensive on how she would do, but she really seemed to grasp the concepts. At the end of the lesson she took an interactive quiz and got a perfect score.
Since the lesson was so short I had her do two to three lessons a day. She has a tendency to space out and not pay attention, so in order to make sure she was paying attention to the lessons I had her take notes. I found that having her take notes was very helpful to her retaining the information.
After about a week of using the program, I realized that we weren't doing the worksheets. I don't know how we missed them, but we did.  She went back and did the online worksheets for the lessons she had already completed and then it was time for the unit test.
There are two options for the test, online or printed out. I decided to have her do the online test. It is a timed test to stimulate a regular testing environment. She doesn't do well with tests, or being timed, but she aced the test!
She was so proud of herself after the test and couldn't wait to start the next unit. Then she found out it was fractions. We have studied fractions for a big part of last year and the first part of this year. She tested out of fractions, so I could understand why she wouldn't want to go back over them again. We skipped over units two and three and went straight to unit 4, Powers and Roots. She loved the unit and learned so much! Being able to pick which unit to work on really excited her. She watched a few lessons on basic trigonometry and a few on polynomials because she wanted to learn new things.
Each day was a little different and as the lessons became more difficult she went down t one lesson a day.
What did we think?
There were a lot of things that we love about the Family Math Package.
Pros
It is a complete program, not just a supplement.
There are detailed reports to let you know how your child is doing.
Instant feedback is given if your child makes a mistake on the interactive quiz. They are taken back to the section in the lesson that explains that topic.
It is full of flexibility! From lesson order, to grade level, to printing things out or doing them online, you decide what works best for you.
It is affordable.
Lessons are presented in a way that makes sense.
While it is a great program, there were a few things that we didn't care for.
Cons
Answers had to be put in a specific way. On the online worksheets, and the tests, the answers had to match exactly or they were marked wrong. In one lesson she was asked how much percent of something would be left. She answered 32% and was marked incorrect because they were just looking for 32. In another lesson she put .02 for the answer and was marked incorrect because the answer was 0.02. Once we knew that the computer wanted the answers a certain way, it was fine but it would have been nice to know from the beginning that they had to be entered that way. I also wish that there was a way for the parent to override the poor score for instances like I explained above. The good news is that they are working on a way to fix both of those issues.
The difficulty level in the interactive quiz and the worksheets often didn't match. On a few lessons she was able to answer all of the interactive quiz questions very easily, but then the questions on the worksheets were way more difficult. This was AJ's main complaint.
Overall, we both loved the program! I loved that it is so flexible. AJ loved that the lessons were short and to the point. For now we will be sticking with A+ Math.
Right now A+ Math is having a 40% to 50% off sale on their "Family Math Packages" and "Adaptive Placement Testing w/ Lessons" program from 5/4/2015 to  5/18/2015. We are really enjoying this program, if it sounds like it may be a good fit for your family check it out. I would highly recommend it!


Find out what other members of the Review Crew thought by clicking the graphic below!