When AJ (13) reads out loud she often mispronounces larger words. When I correct her, her response is almost always, "That's what I said." I don't know if she says that out of embarrassment because she doesn't want me to correct her, or of she really thinks that she says the word correctly. She also has a hard time reading at a decent pace. She will read part of a sentence and pause and then other times she will not take a breath and smash three of four sentences into a single breath. When she reads like that it makes it hard for me to understand what she is reading and makes it hard for her to remember what she has read. It is something we have been working on and we have seen improvements, but not very quickly. I didn't think there was anything to help her, but then I learned about Forbrain – Sound for Life Ltd.
Forbrain
is a bone conduction headset. The child, or adult, puts on the headset on and adjusts the microphone the needed distance. Then they simply read, talk, or complete a variety of exercises. In very simple terms when you speak into the headset you are able to hear yourself. I recommend looking at the website where the
science behind the product
is explained because it is very interesting. It claims to help with reading difficulties, speech issues, attention issues, and memory issues. After learning all about Forbrain I thought it would be a good fit for AJ.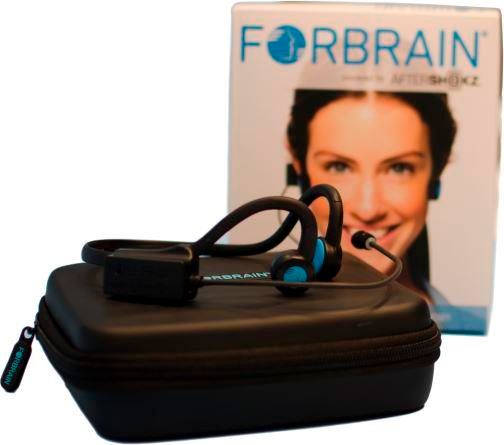 Forbrain is designed to be used daily for six to ten weeks for the best results. When it arrived we plugged it into the computer to charge and then I just let AJ play around with it for a little bit. She instantly liked how it felt and how she could hear herself in her head. After she got use to it I had her read out loud while wearing it. I also had her work on things she was memorizing while she was wearing it. She enjoyed just wearing it around the house sometimes.
I instantly noticed that she was more focused on her work when she was wearing the headset. I didn't have to constantly tell her to do her work. I also noticed that the longer she wore it the more she began to read at a consistent rate. She also seemed to catch herself and correct herself when she would mispronounce a word. I didn't notice any difference in her reading comprehension so far, but it is recommended to be used for six to ten weeks, so maybe we will see more improvement when we get closer to the ten week mark instead of the six week mark.
The issue that I noticed is that while she had improvements when she was wearing the headset, I didn't see those same improvements once she took the headset off. When she took the headset off the same issues seemed to return. I was expecting to see results that would transfer even when the headset was off.
Even though she seems to need the headset on to improve, I plan to have her continue with Forbrain after summer vacation. I plan to have her wear it during poetry memorization, some reading out loud, and when she is working on learning the places for different countries in her geography course.
AJ says she doesn't notice any difference in her reading, but she does like to wear it because she likes that she can hear herself better. She says it does help her to focus though and I never realized that she had problems focusing. Overall we are pleased with the results that we have seen so far and we hope to see more in the future.
Forbrain is an expensive product, but I think it would be a lot cheaper than speech therapy. If your child has significant difficulties this may be the answer.
Find out what other members of the crew thought about Forbrain by clicking on the graphic below.