AJ is a reluctant writer, but we found out a few years ago that she writes a lot more when she is making a lapbook or using a notebooking page. As she has gotten older we have started to move past lapbooks and into notebooking for some of her subjects. We were given a Lifetime Membership to NotebookingPages.com and I was anxious to see all of the different notebooking pages that were available.
Notebooking is a great way to let your child show what they have learned. The process lets them explain what they really know about a subject with a combination of writing and drawing. Notebooking can be used for kids of all ages. Kids in kindergarten and lower elementary may draw pictures about what they have learned and dictate something for you to write where older kids may draw diagrams to explain things or write full pages of information about a topic. NotebookingPages.com has pages for all ages and offers specialized pages in so many different topics.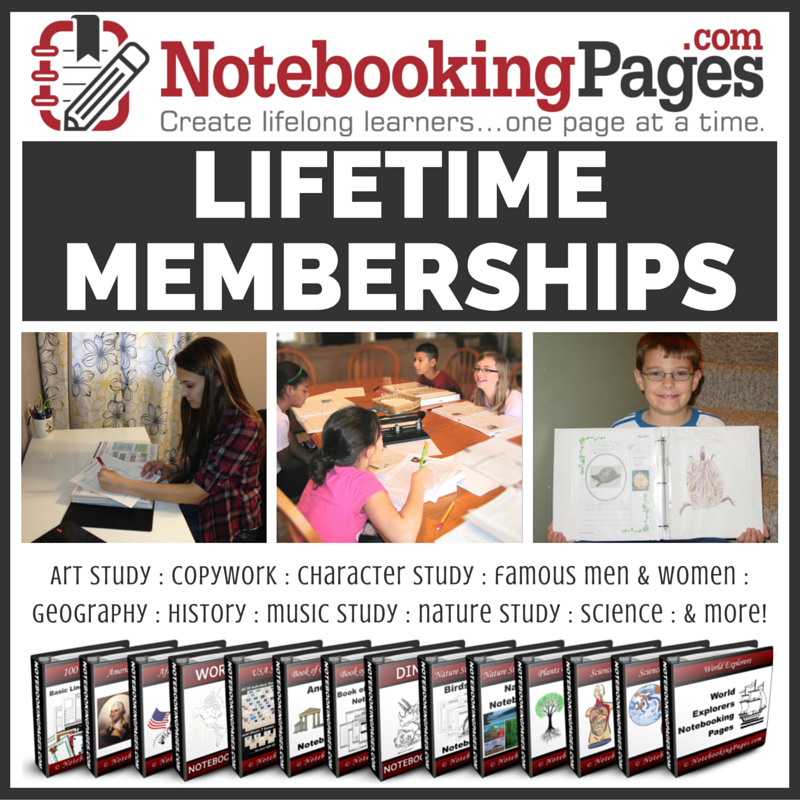 With a
Lifetime Membership
to NotebookingPages.com you are given access to all of the notebooking pages that currently exist and any that are added in the future. The site is very organized making it simple to find the perfect page for what ever topic your child is learning about.
When you log on to NotebookingPages.com you will see that there are ten categories that the notebooking pages are divided into.
Any Study – Here you will find pages that are not specifically meant for a certain subject. You will find numerous designs including pages with colorful borders and different set ups. This section also has 3D notebooking pages and mini books. These are wonderful for those who are transitioning from lapbooking to notebooking. It is a fun way to add mini books right onto the notebooking page. These pages were AJ's favorite, she enjoyed being able to still fill out the mini books because they help her to organize the information that she is writing about.
A to Z – These pages are great for younger kids who are starting to use notebooking pages. It includes coppywork and pages about sports, animals and transportation.
Bible/Character – Here you will find pages about characters and events in the Bible as well as pages dedicated to learning about character traits. There are quite a few different designs with beautiful pictures. There are over 500 different pages to pick from in the Bible category alone!
Famous People – This section has pages about different people. There are pages about presidents, scientists, missionaries, artists, composers, and other famous people throughout history. The artist pages even contain full color pages of art prints from the artist and picture studies. This section could keep you busy, it is well set up so you have what you need right at your fingertips to easily put together a great study.
Fine Arts – This section also includes the artist and picture study section. You will also find pages about composers and musical copywork.
Geography – This was my favorite section! There are maps, country study packets, and USA notebooking pages. There are pages about the different states, monuments, parks, and memorials.
History – These pages include timeline pages and pages to make a Book of Centuries. It also contains pages on; Ancient History, the Middle Ages, Renaissance and Reformation, and Modern Times. There are pages about important people and events in each era of history.
Holidays – This section has holiday themed pages for each major holiday. You can search by month and find pages for that month's holidays.
Language Arts – This section has Latin and Greek word study pages and 13 different categories of copywork pages.
Science/Nature – This was another one of my favorite sections. There are notebooking pages for science experiments, plants, nature studies, astronomy, animals, and anatomy. But these pages go way past simple notebooking pages. There are diagrams of the body and different body systems for your child to fill out, and pages where they can write about each body system. I really think that the anatomy pages and a few good books would be perfect for a high school Biology course. They are very well done. I see us using quite a few of these pages over the next few years.
As you can see there is a very large variety. Most of the pages come in different line styles so your older and younger children can be working on the same topic with pages that fit their writing needs.
With so many pages available and our school year coming to an end we used pages from a variety of sections. I had AJ pick out some of the basic designs to write summaries about books she was reading. She used a few science themed pages to write about what she learned after watching some Bill Nye the Science Guy episodes, and used some of the experiment pages after doing some quick experiments. It is amazing how fun designs make writing up experiment reports so much easier. She has been learning about Greek and Latin words in vocabulary and used the notebooking pages to keep track of the words she was learning. She also used a few of the 3D pages to create some fun pages about animals. She also used some of the blank copywork pages to practice the poetry she is memorizing. In just a few weeks we got a lot of use out of NotebookingPages.com. But I have even more plans for next year.
I picked up a high school World Geography book at the Good Will and was creating a course for AJ to complete, the problem was that I couldn't find any good maps to go along with it. But there are hundreds of different maps available on NotebookingPages.com. I found labeled maps for her to color and blank maps for her to label. There are so many different maps that I was able to find exactly what I needed. There are world maps and continent maps. When she is learning the world oceans I can print out a world map and when she is learning about Africa I can print a map of the continent. It has made planning so much easier.
I have also went through and printed out pages to go with topics she is going to learn about in history and science next year. NotebookingPages.com has made planning for the next school year so much easier.
The site is well organized, easy to use, and full of well made pages. One thing I really enjoyed is that I didn't need to save anything to my computer. I could simply open the file in Adobe Acrobat and print the pages I needed. I know that NotebookingPages.com will be a resource that we use for years to come. I originally thought that I would find a few good pages, but the site has exceeded my expectations. If you use notebooking in your homeschool, NotebookingPages.com will be a great addition have.