AJ can memorize any song or commercial, but she has a hard time remembering math facts and dates that she needs to remember for her school work. When I heard about a new poetry memorization product from Institute for Excellence in Writing, I was a little torn. AJ made great progress with their writing curriculum, but I didn't know if I wanted to add extra work to our already busy schedule. After reading through the samples on the website, I decided that having AJ memorize poetry would be beneficial to her.
We were given
Linguistic Development Through Poetry Memorization
. It includes; five CDs that have all of the poems the student is to memorize, a DVD of the seminar "
Nurturing Competent Communicators
", and a Teacher's Manual. Inside of the Teacher's Manual there is a page that tells you how to download the 170 page student book, and seven audio MP3's of wonderful workshops. We were given a physical copy of the
Student Book
, but it is sold separately.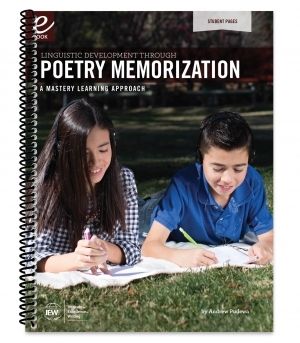 I don't know what it is about Andrew Pudewa, but his seminars and workshops are always enjoyable to listen to and watch. It often seems like he is talking about AJ! I haven't listened to all seven of the seminars, but the ones that I have really changed my thoughts on teaching and language arts in general. I had a few light bulb moments when I was watching the DVD about
Nurturing Competent Communicators.
 If you have a struggling student at all, I recommend listening to any seminar or workshops of his.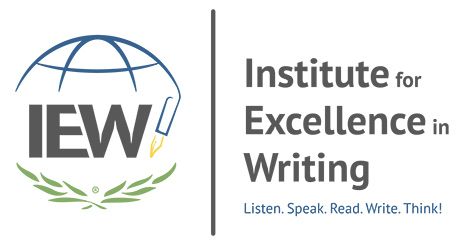 There are five different levels of poetry that your child will memorize over the years with this program. Everyone starts at level one and moves on at their own pace memorizing nineteen provided poems and a personal selection for each of the first four levels. The fifth level has twenty different speeches for your child to memorize.
The poems in level one are fun and silly most of them are between one and five stanzas long with short sentences. AJ's favorite poem that she has memorized so far is called Celery by Ogden Nash.
Celery, raw

Develops the jaw,

But celery, stewed,

Is more quietly chewed.
As the levels progress there are longer poems and some that are more serious, but there are short and funny poems sprinkled throughout as well. I was very happy with all of the different selections. Some of them are poems that I remember reading when I was younger and others are poems that I remember dissecting in English class. There are also quite a few that I have enjoyed reading for the first time.
The program is very simple to use. I decided to learn the poems along with AJ (I don't know if I will stick to that when she gets to the speeches though, they look hard!) and it has become a fun activity for us to do together. Each day AJ and I both recited all of the poems that we had memorized. If she could recite the newest poem that we were working on, then she would color the picture at the bottom of the student page and highlight the name of the poem on her progress page. Then we would start working on a new poem. If she had any issues or missed any words then we would simply continue to work on the same poem. After reciting the poems we listened to the CD of the poems being read aloud until we came to the poem we were working on. We would listen to the poem we were currently working on a few times and then read through it in the student manual. Then AJ would put a check mark on the progress chart to show that she practiced them that day.
In the back of the teacher's manual there are optional lesson enhancements. Some of them are poetry and literary elements to talk to the student about while others are activities like learning about worms when she memorized the poem, Ooey Gooey. We talked about different elements of each poem, but we didn't decide to complete any other enhancements because our days our fairly busy right now. I like that they are there if I need them.
The entire process takes us less than 10 minutes a day, and it is a time that AJ enjoys. When I first told her we were going to memorize some poetry she wasn't excited, but now if I forget to have her do it, she reminds me.
One of the reasons that this product interested me was that AJ has a very hard time writing poetry. She is a very literal thinker and writing silly verses was a hard concept for her. I hoped that introducing her to different poems would show her that not all poetry had to rhyme and that they were not all suppose to be read in a sing song tone. Having the poems read correctly with the correct pronunciation was wonderful! I am very glad that we had the opportunity to review the Linguistic Development Through Poetry Memorization , we plan to continue with it for years to come.