About a year ago I was getting ready for a major surgery on my foot. I knew that I would be in the hospital for a few days and that I wouldn't be able to cook for a while once I got home. Since I am allergic to corn, and it is in just about everything, I knew that I needed to do something to make sure I would have something to eat during my recovery. I couldn't depend on a TV dinner or a can of soup because the majority of them contain corn products. In the end I decided to make a bunch of meals ahead of time and freeze them. It was a lot of work to find recipes that would freeze well and would work for our family, but having the meals ready to go made our life a lot easier.
We ended up with a few favorite meals that I still try to make ahead and keep in the freezer for days when I am hurting too badly to cook. Unfortunately, we also ended up throwing away too much food because some foods just don't freeze well. I was in the middle of trying to find new freezer recipes to try when we were given the chance to review an amazing product that I thought would be perfect for our family. We were given the chance to review the MyFreezEasy.com Freezer Meal Plan Membership from MyFreezEasy. We received an annual subscription.
What is MyFreezEasy.com?
MyFreezEasy.com is an online subscription based product that helps you to quickly and easily find recipes to make ahead and put in your freezer. The process is simple!
First you decide on a plan that fits your family.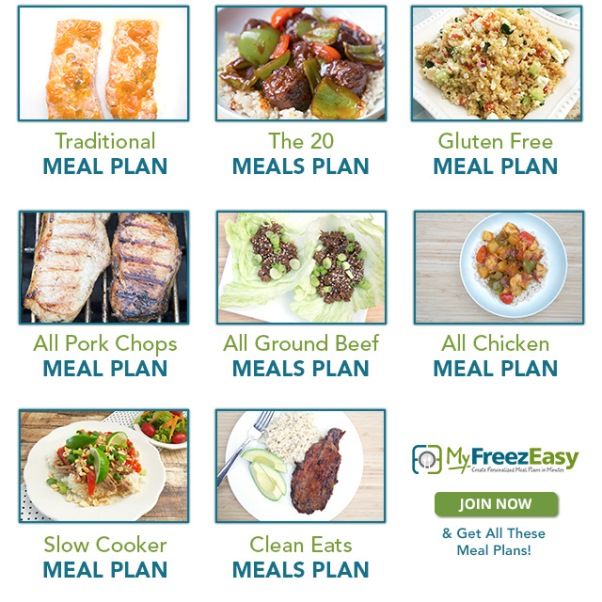 There are enough options to satisfy the majority of families. You can pick from meal plans that change monthly including:
Traditional Meal Plan – This includes a variety of different meats and cooking methods.
Gluten-Free Meal Plan
Slow Cooker Meal Plan
Clean Eats Meal Plan
20 Meals Plan – This has 10 different meals that are each made twice.
All Chicken Meals Plan
All Ground Beef Meals Plan
All Pork Chop Meals Plan
Or a Build a Menu Meal Plan – This lets you pick a total of five meals from any of the meal categories.
Most of the meal plans have five different meals that you will double giving you a total of ten meals to put in your freezer.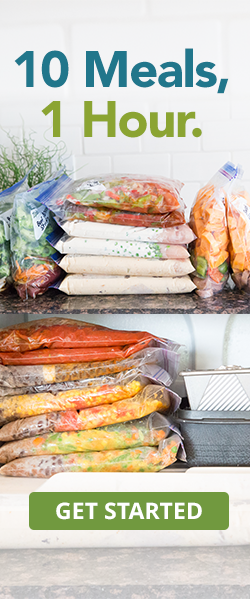 Once you select the meal plan that fits your family, you decide how many servings of each meal you want to make. Then you simply save the meal plan to your computer and print it off. You can also print labels for each of the meals.
For each recipe in the plan you are given directions for making a single meal and the assembly and preparation directions for how to make two of the meals. You are also given a shopping list for each recipe individually and a master shopping list that includes everything you will need to make all ten or twenty meals. The shopping list is even divided by the sections of the grocery store. One spot has all of the spices you will need while another section lists all of the canned or boxed goods. The process should make for a simple shopping experience.
Then you simply return home, batch cook the meals, and freeze them. The result is a freezer full of home cooked meals that you can pull out and make with little effort on busy days.
How We Used MyFreezEasy.com
When we were first given access to the website I began looking through the different meal plans. None of the premade meal plans were a good fit for our family so I decided to make one of our own. After looking through dozens of recipes I was quickly discouraged. While the site has a lot of different meals I found a lot of them to be very similar. There were also a lot that required things like Alfredo sauce or cream soups. I have to make my own Alfredo Sauce and cream soup base from scratch, and they don't freeze well so instantly a lot of the meals wouldn't work for our family. After looking over the different recipes I found 8 that sounded like they would be something we would like and something I wouldn't have to make too many changes to.
The process of making the meal plan was easy once I decided on the recipes that I wanted to make.  I selected the meals, put in the number of servings, and printed off the lists. I wasn't sure how big the servings would be so I decided to opt for more than I needed to make sure there would be enough. The serving sizes are actually quite large and in the future I will be able to make less and still fill up our family.
After I printed off the shopping list, I had someone take me to the store and came home ready to cook. The meals I decided to make were: 5 Ingredient Chili, Slow Cooker Chili Mac, Lightened Up Chicken Parmesan, Slow Cooker Butter Chicken, and Ranch Chicken and Baby Potato Bake.
When I got home I made up the chili, chili mac, and the butter chicken. But when I went to make the chicken Parmesan I found out that I didn't have bread crumbs and they were not on the shopping list that was generated. I was a little irritated because I can't drive and it isn't always easy to have someone take me to the store. Since I didn't have bread crumbs I couldn't make that recipe. Then when I went to make the other recipe I realized I didn't have bacon, and it wasn't on my list either.
I decided the three meals would be enough to start with. We tried the chili first. It was ok, but we needed to make some changes to fit our taste. It is a recipe we will make again in the future. Next we tried the chili mac. It was a meal I was looking forward to. The first time I cooked it like the directions said and the macaroni was way over cooked. It was a starchy mess that we had to throw away. The next time I only let it cook part of the time and didn't add in all of the macaroni. It was dry and again it had to be thrown away. I thought for sure that we would like the butter chicken. But we didn't.
What We Thought
I love the idea of MyFreezEasy.com. Cooking ahead and having meals ready to throw in the oven or the slow cooker makes dinner time go a lot smother. Unfortunately, because of food allergies that limit what we can eat and a somewhat picky family, a lot of the meals won't work for our family. We plan to make more meals form MyFreezEasy.com in the future, but we won't be freezing any of them until we try them out and like them first. My grocery budget can't handle throwing away food.
I loved how easy the site was to use. The way the shopping list was set up made for an organized trip to the store, but they need to find a way to make sure all of the ingredients end up on the shopping list. There were also errors in a few of the recipes making it hard to know how much spices needed to be added.
Between the lists, helpful videos, and labels, this really is a great way to get started in freezer cooking. If you don't have a lot of food restrictions and have family who is willing to try new dinners, this is a good product to try.
Find out what other members of the Homeschool Review Crew had to say about MyFreezEasy.com by clicking on the graphic below.