I feel the Bible is a very important subject in our day. This year we have made it a priority to study the Bible a lot more often. We have been looking at in in a historical way, but haven't gotten to the New Testament yet. AJ knows the story of the birth of Jesus and how he died on the cross for our sins, but she has a lot to learn still. When I learned that Heidi St. John had created Bible studies, I was excited to try one out!
We were able to review Firmly Planted, Gospels, Part 1 from Real Life Press. We were given a downloadable PDF of both the Family Study Guide and the Student Book.
What is the Firmly Planted, Gospels, Part 1?
The Study Guide is a 127 page PDF that is broken up into ten different lessons about the life of Jesus. Each lesson follows the same basic format. It starts with a passage from the Bible in the ESV version. Then it gives the big idea of the study, memory verses, a section called Watering the Seed where a little story is given to help understand the importance of the main idea, and then the Daily Study.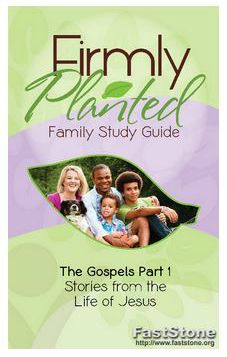 Each day for the
Daily Study
you are instructed to read part of the passage then read a few paragraphs that explain the Bible reading and make you think about it. After each daily study there is a
digging deeper
section that explains even more and gives additional details, and a
Taste the Fruit
section. The
Taste the Fruit
section is a place where it shows how the passage is applicable to your daily life. There are 4 Daily Studies for each lesson.
The Student Book is a 225 page PDF. It is full of activities for a variety of ages to help with the main idea of the Bible Study. Some of the activities included are; mazes, word searches, crossword puzzles, fill in the blank passages, nature studies, journaling pages, copywork, mapping, and more. Each lesson has between 20 and 26 pages worth of activities.
While the two products go together and complement each other, there is not a set schedule given to use them together.
How did we use it?
The first week I printed off the study guide for the week and about ten different activities that I thought AJ would enjoy. We read through the passage, went over the main idea, and then went on to the first daily study. When we were done reading and discussing she did a few of the activities.
It seemed like a lot of printing, so after the first week we would read through the lesson on my computer and then have her do some of the activities. Some days she would look up the vocabulary for the section and then da a maze. Another day she would look up the passage and do a fill in the blank puzzle. Other days she would look up verses in the Old Testament that showed how events from the New Testament had been prophesized. Each day was a little different.
She enjoyed the mazes, word searches, crosswords, and fill it in puzzles. She also liked the vocabulary. The nature studies didn't seem like a good fit for us, so we skipped them. We also decided to skip the coloring pages and copywork sections that seemed to young for AJ. Each day she did between two and three pages of activities. The daily work seemed to take about 15 minutes.
What did we think?
The Firmly Planted Gospels, Part 1 has a lot of great features!
Pros
The lessons are short enough to keep kids attention.
The student workbook has activities for a variety of ages, making a family study very easy.
It is broken up into 4 daily study sections giving those who school with a four day schedule an easy way to fit it in.
The print quality is nice in both black and white and color.
There were a few things that we didn't enjoy.
Cons
There was a lot of printing. Even with only printing out the desired pages from the student workbook, I was printing between 8 to 12 pages a week and that was with one student.
There were a few theological differences in beliefs between the author and myself. This may or may not be a con for you. There was nothing outlandish or wrong, but a few small things that I didn't agree with. It was easy to leave those points out of our lessons.
Our biggest complaint was that the study was just not enough. Each day we went over a few verses, I thought that there should have been more Bible reading each day. While the short lessons do provide a quick study with the family, I would have liked to see more. Maybe it is because we are use to studies where we study a few chapters a day, that this just didn't seem like enough.
Overall I think that it is a good study, and if AJ was younger or I had more kids it would have been a really good fit. Right now I feel AJ was too old for a lot of the activities and that she needed more from a Bible study. There are a few activities that help an older child did deeper into the study, but they just didn't seem to fit with AJ's hands on learning style.
I would recommend this study for those with younger kids who would like a variety of activities to pick from. If you are looking for a short to the point Bible study, this may be what you are looking for. I was one of many who reviewed products from Real Life Press, click the graphic below to read what others had to say!