When I first started homeschooling AJ I wasn't afraid to teach her algebra or biology, I was worried how I would teach her music or art. I knew that she would need to learn a variety of subjects, but music was one that I didn't know how I would go about teaching. I have never played an instrument and I couldn't name more than two famous composers. AJ on the other hand loves music, all kinds of music, and is eager to learn. When we were given the chance to review a Music Appreciation course I was excited to see if it would be a good fit for AJ. I was amazed at the course that Zeezok Publishing LLC had put together. Their Music Appreciation Book 1: for the Elementary Grades is an excellent program.
Over the course of a year your child reads and learns about seven of the great composers; Schubert, Mozart, Paganini, Bach, Hayden, Handel, and Beethoven. While learning about each composer your child will read a book about each one, complete activities related to music, create a lapbook about each composer, listen to music, and do hands on activities. While the study of each composer has similar activities, each one touches on different aspects of music. We started our study with George Fredrick Handel.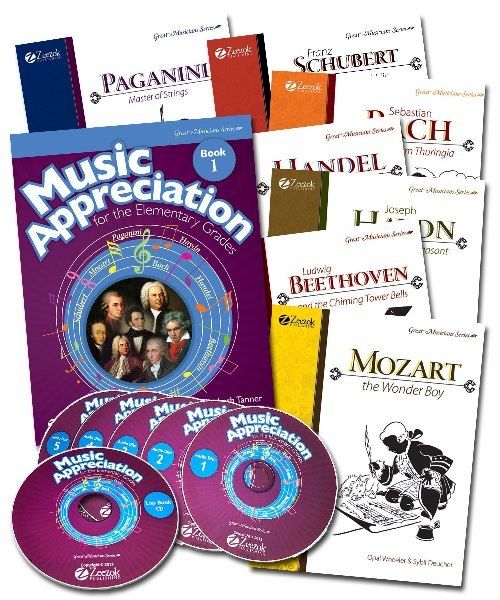 We received seven books, one about each composer, a five disk CD set full of wonderful music, a CD with lapbook pieces to print off, and a large workbook that is over 350 pages long. While this curriculum states it is for the elementary grades, there is a lot of work and learning involved.
When we started our journey to learn all about George Handel (a name I had never heard) we turned to his section in the large workbook. On the first page we found a weekly lesson outline that broke the study into four weeks. It also included a few activities that AJ would need to complete outside of the program in order to meet national music standards. Those activities were simple to complete. Each week we needed to read a chapter out of the book, Handel at the Court of Kings, and answer some comprehension questions. She listened to some music from the composer each week as well. Each week also had her complete a section called Character Traits and Tidbits of Interest.
The biographies are well written and full of interesting details. In Handel at the Court of kings, we learned about his life in great detail, from him getting in trouble when he was six years old for following the singers in the street, to when he was traveling across Europe, and when he started to go blind. The book is broken into four chapters and contains sheet music for many of the songs that Handel composed. The book is fairly easy to read, but it does contain some difficult vocabulary sprinkled throughout. Including the sheet music, the book is over 160 pages long.
The Character Traits section listed good character traits that Handel displayed during the chapter and explained the traits in better detail. Handel was a good man. Some of the traits AJ learned more about were; diligence, humility, leadership, and humor. Reading through the character traits only took a few moments each week, but AJ enjoyed it. I liked the fact that those qualities were being displayed in real life ways throughout the book.
The Tidbits of Interest section was neat. It would list a page number and then give more information about an event that happened on that page. We tried to stop and read the tidbit of interest when that part of the story came up. It helped to put some parts of the story into perspective. When Handel was young his father didn't want him to pursue a life of music, but we found out in the Tidbits of Interest section that at that time in Germany musicians were regarded as lower than servants. That helped us to see why his father was so against him being a musician.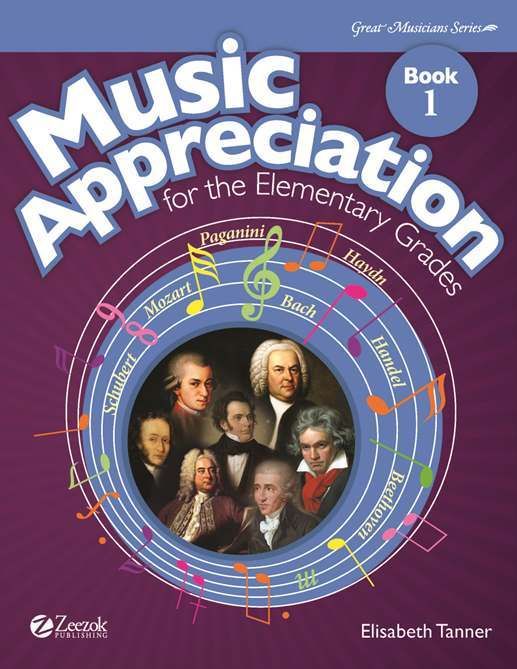 Each week AJ completed other fun activities to go along with the story. During week one she learned about Germany and practiced locating different countries in Europe. She learned a little about Bach and Scarlatti, the other composers who were born around the same time as Handel. She copied parts of sentences out of the book and sorted out the adjectives and adverbs and did research on the oboe.
The second week had her learning a little more about Germany. She also started learning about some of the elements of music. She learned about; melody, harmony, dynamics, rhythm, tempo, and timbre. All of those terms were new to me, but AJ remembered some of them from the piano lessons she had taken. She ended the second week by learning about the different types of sound that instruments make and assigning colors to different sounds. She was given adjectives like lonely, warm, sweet, and heavy and had to decide which color reminded her of the word. She had a hard time with that activity because she is a very literal thinker. I think that was the only activity that she didn't like in the entire study.
The third week was her favorite. It started with her reading and copying quotes about or by George Handel. Her favorite quote was from Handel, "…I should be sorry if I only entertained them; I wished to make them better." In the book we learned how amazing Handel was, not only in music, but as a leader. AJ's favorite part of the week was comparing and contrasting different music. She listened to songs that were opposites and described how they were alike and different. She listened to 10 different songs (not including the ones written by Handel) during the third week, and wished there would have been more.
The final week had her complete a few different activities. She reviewed the different character qualities that Handel displayed, put together a time line of events, learned about some of Handel's famous songs, and experienced being blind. The last week took us two weeks to complete because there was so much to learn.
We tried to do the reading on the first two days of the week and the other activities through the rest of the week. We both liked that there were so many different activities. The only problem we had was that the chapters in the book are so long. The second chapter begins on page 43, so that shows how long the chapters are. I also felt that we rushed through some of the lapbook activities in order to try and stay on schedule. Even with rushing, it took us almost six weeks to finish our study on Handel. The next composer we plan to learn about is Bach, there looks like a lot of fun things in that unit.
I think this is a very well written curriculum. The books are interesting to read and full of factual details, and the CDs align perfectly with the book. When we are reading about a song Handel composed the book tells us which CD and track to go to so we can listen to the song. It is very organized and easy to teach, even if the teacher has no previous knowledge of music. There are hands on elements that make learning fun. Each composer focuses on different musical elements so the student really gains a wide variety of skills once the program is finished. The best part is that AJ really looked forward to music each day. There was a large amount of reading and writing, but she enjoyed it so much that she didn't mind those things.
Since this was written for elementary aged students, I thought that we would be able to breeze right through it. That was not the case. If I was doing this with an elementary student I would most likely change this into a two year program and complete a book in eight weeks instead of four. I think doing all seven books in one year with an older student would be difficult, I couldn't imagine trying to do it with a third grader. I think it would be too much when all of the other daily work is included. If you are looking for a quick and easy music program this is not what you are looking for. But if you want a program that will immerse your child in the world of music and make learning really come alive then this is exactly what you want.