A few weeks ago I shared my opinions about a fun 3D pumpkin shaped tract from Let the Little Children Come. The pumpkins are an amazing way to spread the gospel in a hands on way. One neat thing about Let the Little Children Come is the variety of tracts and evangelism tools that they offer. We were blessed with a chance to review their Gospel Tracts and Evangelism Tools Sampler Pack. After seeing how different the pumpkins were, I was excited to see what the sampler pack had to offer. This pack is an affordable way to see the high quality tools they offer.

What Comes in the Sampler Pack?
The Sampler Pack has 10 of the company's most popular tracts and tools. These are way beyond your basic tract. They are colorful, interactive, and meant to be looked at for more than a few minutes.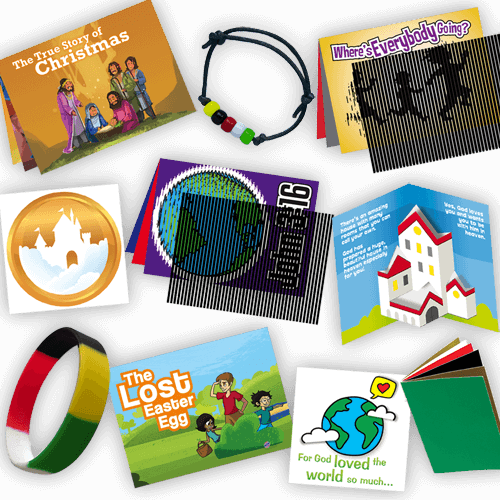 Animated Tracts
The sampler pack comes with three animated tracts. They are booklets that come with a striped piece of plastic. When you pull the plastic over the pictures in the booklets, the pictures come to life! While each tract is a little different, they all end with the three step process of being saved (Admit, Believe, Invite), and a sample prayer.
John 3:16 Animated Tract
 – This tract tells the well known verse over a few pages. The colors are bold and the pictures are simple yet entertaining. This tract would be perfect to hand out all year long.
Where's Everybody Going? Animated Tract – This is another tract that is great to give out all year. It tells how God created the world and how He wants to be with us, but that sin separates us from Him. It then goes on and explains how we can become closer to God.
The True Story of Christmas Animated Tract – This was my favorite animated tract. It tells the story of the birth of Jesus in a way that will appeal to kids and keep them interested. The pictures include baby Jesus crawling and angles flying in the sky. It is beautifully made and would be perfect to hand out during the holiday season.
Pop-up Tracts
The sampler pack comes with two pop-up tracts. Who doesn't love a pop-up book? These are made of a quality paper that won't easily rip. The colors are beautiful and the pop-up pictures add a touch of entertainment.
The Lost Easter Egg Pop-up Tract
 – Looking for a tract to hand out in time for Easter? This one is perfect! It uses three kids and an egg hunt as a way to tell the story of the lost sheep. It is unique and full of excitement.
The Most Amazing House Pop-up Tract – This tract tells how God prepared a place for us in heaven, and what we need to do to get there. It is perfect to hand out year round.
FlipAbouts
These are neat little papers that change as you fold them in different directions. While they are very unique and I think kids will enjoy them, they are a little hard to figure out. If you try and force them to fold they can rip. I think older kids about 8 and up would enjoy them, but younger kids may find them a bit too frustrating.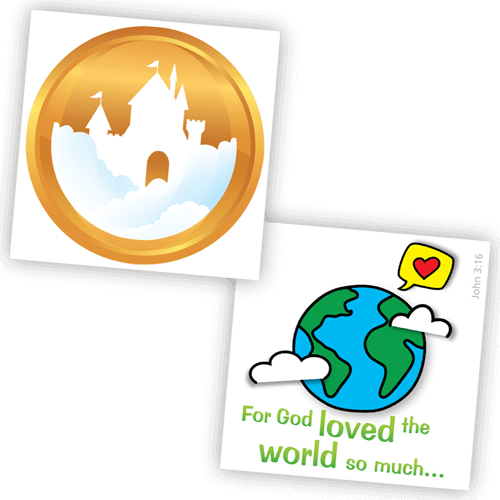 Gospel Buttons FlipAbout
 – This has pictures of a cross, a heart and heaven. Once you follow the directions and explain the story that goes along with the pictures, the child will have fun folding and going over what the pictures represent. When you order a pack of the FlipAbouts they will come with directions about how to use them. You can find more information about how to use the products online.
John 3:16 FlipAbout – This FlipAbout tells the verse. It has bright pictures to help keep the kid's interest.
Other Cool Evangelism Tools
While their tracts are amazing, sometimes you need an activity or something different to keep kids interested in a lesson. The sampler pack comes with three cool evangelism tools.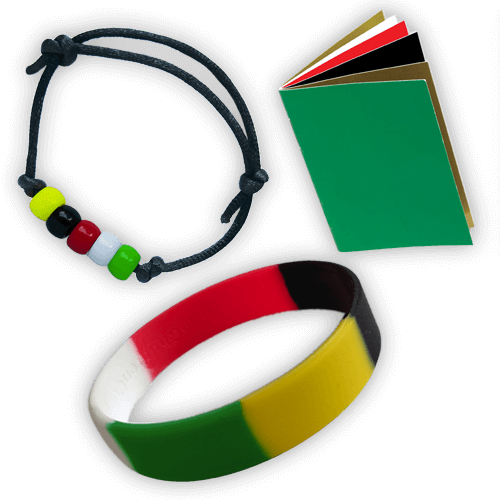 Wordless Book
 – This book is small, durable, and glossy. Each color represents part of the story. The wordless book is a great way to spread the message of salvation.
Silicone Salvation Bracelet – Medium – The bracelet comes wrapped in a paper that explains the meaning of the bracelet. It has five colors; yellow, green, white, red, and black. While wearing the bracelet the different colors can remind the child about the story of salvation.
Wordless Bracelet Kit – If you want to make the wordless bracelet, then this kit is what you need. It comes with the beads, the cord to put them on, and instructions for a lesson. This would be a fun craft to do in Sunday School.
What We Thought about these Cool Evangelism Tools
The sampler kit came with one of each item. You can purchase the kit to see just how well made and amazing these tracts and other tools are. Or you can order a larger quantity of the product that will work the best for your situation. We were very pleased with the different options. With all of the high-teck gadgets that kids have, you need to do something to grab their attention. The products from Let the Little Children Come does that. If you are looking for a new product to hand out or are looking for a way to get people interested in actually reading and benefiting from tracts, I highly recommend checking out the products from Let the Little Children Come.
Find out what other members of the Homeschool Review Crew thought about the Gospel Tracts and Evangelism Tools Sampler Pack by clicking on the graphic below.