For the past few weeks AJ has been using the Reading Eggspress portion of Reading Eggs to improve her reading skills. While she is technically above the age and grade level recommendation for the program, I have seen some great improvements in her reading skills in just a short time period. The best part is that she is enjoying the program.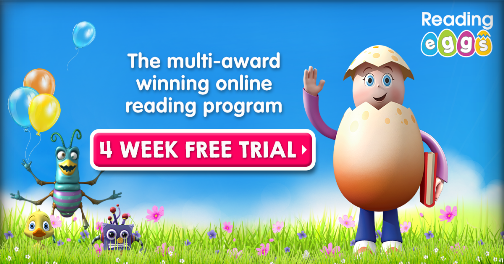 What is Reading Eggspress
Reading Eggspress is an online program designed to help students ages 7 to 13 improve their reading skills. It is meant to be used after the student has mastered basic phonic skills. When your student starts the program they can take a placement test, or you can decide what level you want them to begin with. Then they can read books, complete lessons, work on spelling skills, practice grammar concepts, or play games. For each learning activity they complete, they are awarded eggs.
The student can spend the eggs to customize an avatar. They can buy fun outfits, accessories, and backgrounds for their character.
Each level has different maps that your student works through. The video game like map is designed to take the student three to four hours to complete. It has five lessons and an assessment. There are multiple parts to each lesson. While each lesson is a little different, most include activities that help the student learn to do more than simply read text. There are activities for looking at the covers of the books to help decide what type of book it is, lessons on point of view, inference, vocabulary and dictionary skills, and so much more. Each part of the lesson only has a few questions for the student to answer and they are given instant feedback on if their answer is correct or incorrect. When they complete each section of the lesson they are awarded with a fun animation that congratulates their hard work. At the end of each lesson the student is awarded with a virtual trading card.
Once the student completes a map the parent is sent an email with their progress. The email explains which skills the child worked on, how much their reading level has improved, and what they scored on the assessment. You can also log into the parent dashboard and view detailed information about your child's progress at any time.
The Library
There is a large library of books that your student can pick from. After they read a portion of the book they are asked a few questions about it, and are awarded eggs for correct answers. The student can pick books based on interest level or based on reading level.
Spelling and Grammar
The spelling program is easy to use! Once you decide which level you want your child to start with, they watch a video about a spelling rule. Then they answer twenty questions. Some have them correctly spell misspelled words, others have them click the correct spelling, or type the word they hear. Once they answer five questions correctly they are taken to a game to practice the words in game form. After all of the questions are answered they take a quiz and fix the spelling of any words that they got wrong.
There isn't very much grammar instruction in the program aside from parts of speech. But your child can practice skills that they already know in game form. They can even compete with other students around the world.
Worksheets
If you would like to take the learning offline, there are worksheets that you can print off for your child to complete. There is a worksheet for each lesson that corresponds with what the student will learn in the online portion. These are not necessary, but are a great way for your child to get in some additional practice on concepts that they struggle with.
There are a lot of great things to discover on Reading Eggs.  While our review focused on the program for older students, they also have programs for kids as young as two years old. They even have a math program for early elementary grades. You can get a Free 4 week trial and see if the program is a good fit for your family.
What We Thought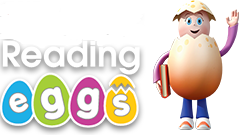 We tried Reading Eggspress a few years ago and it just wasn't a good fit for our family. There were a few different issues but I think the main one was that I placed AJ in a level that was too difficult for her and it was just frustrating for her. This time around things were different. I had her take the placement test and just had her start where it placed her. I had her do a few lessons each week and had her work on spelling.
Her reading has improved over the years and she can read grade level texts, but she still has some difficulty. Her main issues come from making inferences and vocabulary. She can always tell me what the reading says, but often has a hard time reading between the lines. The activities involving inference and vocabulary in context were very helpful for her. It helped her to see how she could learn more from the reading than what was actually written. Even though the reading level was easy for her, she was still learning valuable skills. I think we will continue to use the program a few times a week to help brush up on some of those skills.
Find out what other members of the Homeschool Review Crew thought by clicking on the graphic below.