A few years ago AJ was looking at one of the catalogs from Apologia Educational Ministries and she saw their old Marie Biology course. She begged me to get it for her. She loves animals and plans to have a career caring for them in some way. At the time she was too young for the course. Technically she is still too young to take the course because it is an advanced biology course and she just started ninth grade. But when we were given the chance to review Apologia Educational Ministries new Marine Biology 2nd Edition Advantage Set  and Marine Biology 2nd Edition Audio CDI knew that I couldn't turn it down!
The advantage set comes with the textbook, the student notebook, and a solutions and test manual. We also received a separate test booklet. In order for your student to successfully complete the course you will need to purchase the Slide Set and the Dissection Set. There is a lot of hands on learning with this course!
About the Textbook
The textbook is amazing! It is over 550 pages. The book is broken down into 16 modules that each take around two weeks to complete. They are:
The Oceans of Our Planet
Life in the Sea
The First Four Kingdoms
Marine Invertebrates I
Marine Invertebrates II
Marine Vertebrates I
Marine Vertebrates II
Marine Ecology
The Intertidal Zone
Estuary Communities
Coral Reefs
Continental Shelf Communities
The Epipelagic Zone
The Deep Ocean
Ocean Resources
Effects of Humans on the Sea
This is a college prep course that is designed to be taken after the student has taken biology. It covers a lot of information and uses advanced vocabulary. But there are plenty of diagrams, pictures, and experiments to help students understand difficult concepts. At the end of the book there is a glossary, reference figures and tables, fill in the blank module summaries, a list of needed lab supplies, and an index. It is a big book that is packed full of information.
What Does a Marine Biology Lesson Look Like?
In a typical day your student would read through four to eight pages in the textbook and answer two (give or take) "On Your Own" questions. They may also do an experiment or two.
All of the experiments have a purpose listed. Some of the experiments are very simple to preform but they teach an important concept. For each experiment there is a list of materials, a question that needs to be answered, instructions on the type of hypothesis the student should write, a detailed procedure, and instructions for a conclusion. I was pleasantly surprised to see such detail. I am confident that students would be able to preform most of the experiments with little help. (Except for the dissections.)
At the end of each module you will find the answers to the "On Your Own" questions. Each one has more than just a simple answer, it goes further in depth to explain the answer. I think this is a great idea because it will let your student check their answers and make sure they are understanding the topics.
There is also a study guide for each module. Each module is a little different, but they all have vocabulary for the student to define and questions for them to answer based on the entire module.
About the Marine Biology Student Notebook
The student notebook is a spiral bound, soft covered book that is just over 500 pages. The beginning of the book has a daily schedule. It is completely broken down and tells the student what pages to read, which questions to answer, and if they need to complete an experiment. While it would be possible to figure the schedule out with just the textbook, I found this very helpful. I could just tell AJ to look at the schedule and check off the box when she was done.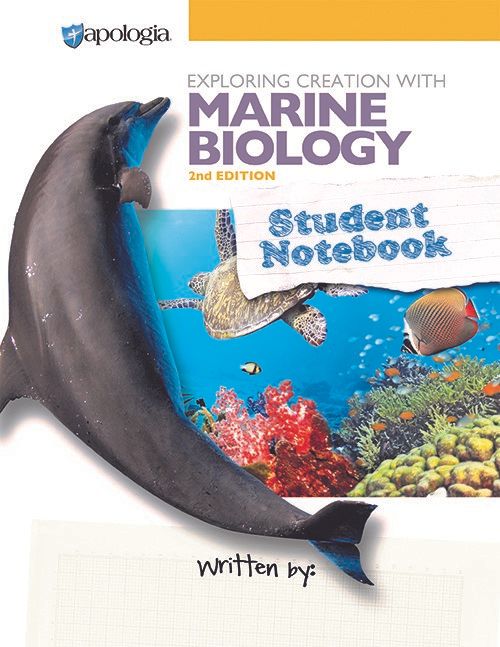 There is a section that explains how to take notes when reading. For each module there are a few pages for the student to write notes. I like that idea because all of their work and study materials are then in one place.
One major advantage of the Student Notebook is that it contains all of the questions from the textbook. Each "On Your Own" question is written and has plenty of room for your student to write their answer. It also has the study guide and the fill in the blank module summary from the book. The Student Notebook isn't a necessity. Your student could answer the questions on their own paper and copy the module summary, this is just a more convenient option.
The back part of the Student Notebook is the Lab Notebook. It has the same information that the textbook has, purpose, materials, question, hypothesis, and procedure. There are also color photos and diagrams for some of the experiments.  After the procedure, there is a section for the student to fill in information about the experiment. There are sections for their hypothesis, observations, sketches, and conclusions.
While we found the Student Notebook very convenient, there were a few things that we didn't care for. The paper is very thin. A few pages have already ripped at the spiral binding. AJ likes to write in pen and the ink bled through to the other side. She had to switch to pencil. It wasn't the end of the world, but it bothered her. Our other complaint is that we would have preferred the labs to be with the study questions instead of in the back of the notebook. Then all of the information for each module would be together. Again, this would not be a deal breaker. I would absolutely by the student notebook.
Solutions and Tests Manual
The Solutions and Tests Manual is a soft covered book that is over 200 pages long. It has detailed answers for each module's study guide, tests for each module, and the solutions for the tests. There are also four quarterly tests with solutions as well. I know that I wouldn't be able to grade the tests without the use of this guide.
We also received a small test booklet. It is a 50 page booklet that is stapled together and simply has all of the tests. It is convenient to be able to hand the student the booklet without the answers, but there really isn't enough room for the student to write their answers.
The tests for this program are fairly difficult. The student is expected to give full vocabulary definitions and answer a variety of questions. Some of the questions are a little confusing and make the student think. If a student passes the test, you can be sure that they really understand the information. These type of tests will help prepare your student for higher level science courses.
AJ is not use to these types of tests. We are slowly transitioning to more difficult tests, but these were a little too difficult right now. Her other classes are not "college prep" level. We will revisit the tests in the future. Right now I have her do a definition matching page that I made up and I reword some of the questions. The textbook tells you to base the grade of your student on their tests and labs with little if any points for their daily work. We have never been big on tests, so I plan to grade a little differently. That's the beauty of homeschooling, you can do what fits your family.
The Audio CD is perfect for slow or struggling readers, or those who are auditory learners. It is the textbook read by Marissa Leinart. This isn't a substitute for the book though. Your student will need to look at the graphics and diagrams and read a few small sections that Marissa Leinart doesn't read.
AJ is a slow reader and this was a huge help! Not only did it help her get through her work faster, but it helped with pronunciation of difficult words. Ms. Leinart reads the book very well. It is at a decent pace and her voice is easy to understand.
Our only complaint is that it is not a regular CD. It is an MP3 CD so it can only be listened to on a MP3 compatible CD player or on a computer. We had to listen to it on my computer. It worked out, but it would have been a lot easier to be able to listen to it in her CD player that has better volume.
Sometimes AJ tends to space out when she listens to things. What we did was listen to the CD for a section and then have her read a section. She alternated reading and listening to the textbook. It worked out well and she seems to have retained a lot of the information.
What We Thought about Marine Biology
This was our first time using a science course from Apologia, and I can see why so many people recommend them. The textbook is beautiful. It has so much information that is just waiting to be absorbed. They have a good balance of reading, writing, and hands on learning. The lab experiments have a purpose and are not just busy work. I like that with the exception of the microscope slides and the animals to dissect, most of the labs use easy to find materials.
The other great thing is that the course is customizable for your family. If you are on a strict budget then you can buy just the textbook and the solution guide. Or if you want a little more convenience with everything laid out for your student, you can add in the Student Notebook. If you have a struggling reader or a student who would rather listen to a lesson then the MP3 Audio Book is for you. They even have a DVD option where a teacher teaches the lessons and your student can watch.
We are very thankful that we were picked to review the Marine Biology course. AJ has learned so much and enjoyed the process. Right now we are trying to decide if we want to continue with Marine Biology or if we should put it away for a few years and come back to it when she is a little older. I thought she would do fine with the course even though it is for older students. We have had to take the course slower and adjust a few things. This isn't an easy course, and it isn't meant to be. I would not recommend this course for younger (8th – 10th grade) students. Follow the guidelines on their website. Your student really needs a good understanding of basic biology to benefit the most from this course.
If your student is ready for an advanced science course and they love animals, then this is the course for them! There is so much to learn.
Find out what other members of the Homeschool Review Crew thought by clicking on the graphic below.