Last year our plan was to have AJ study modern history. Over the years we have focused a lot on the American Revolution, the Western Expansion, and the Civil War. We have also studied the earlier time periods. Our plan started off well, but soon rabbit trails led us in other directions. She started high school this year, so I wanted her to have at least a basic understanding of the history of the 20th century. When we were given the chance to review An Overview of the 20th Century from A Journey Through Learning Lapbooks I knew that it would be a perfect fit. AJ loves creating lapbooks, and the ones from A Journey Through Learning have always been a hit in the past. We have used a quite a few of their lapbooks and other resources. Our favorite was the Prairie Primer Binder Builder.
What Makes A Journey Through Learning Lapbooks Amazing?
When you purchase a lapbook from A Journey Through Learning you know you are getting quality. They take the time to make the process of putting the lapbook together as simple as possible. They include step by step instructions on how to create the lapbook and all of the mini books that go inside. There are even pictures that show exactly where each mini book needs to be glued.
The lapbooks are flexible and easy to customize to fit your student. All of the lapbook that we have completed have come with a study guide about the topic. If you are looking for a quick study, your student can simply read through the study guide and complete the mini books. But you can also stretch the study and go deeper in-depth by adding in books, videos, and other information on the topic. There are sheets included so that the student can keep all of their research together. This lapbook also includes optional worksheets that the student can fill out for a biographical book report and a war study.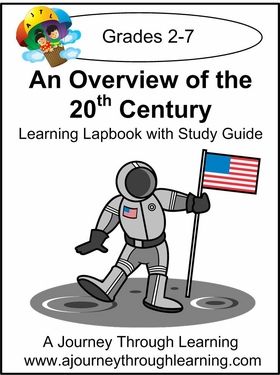 This lapbook is geared for kids in grades 2 through 7, but older students could use it as well. It is 72 pages and makes a three folder lapbook. The student will complete 23 mini books focusing on people and events from the 20th century. The mini books include a variety of activities like; labeling, answering questions, coloring maps, drawing flags, a word search, a cross word puzzle, copywork, and defining vocabulary.
After completing this lapbook your student will have a basic understanding of the wars, famous inventions, and the people who changed history in the 20th century.
Since we were just looking for a quick overview, I just printed everything out and gave AJ one topic each day. She would read through the information and complete the mini book. Some days she would look the topic up online to learn a little bit more information. It was a simple addition to her day that didn't take very long. She is above the recommended age, so a few of the mini books seemed babyish to her, but overall she enjoyed them.
This study could easily be stretched out for at least a semester. If I would have had it last year I would have used the lapbook as a base and I would have added in both fiction and nonfiction books on the topics for her to read. It could be turned into a great unit study. But I also like that I didn't have to do that. I could simply print and go, knowing she was learning.
What We Thought
We were very pleased with the lapbook. The study guide had enough information that AJ could learn the basics on her own. It was easy to use and the directions make putting the lapbook together simple. We have enjoyed every lapbook that we have tried from A Journey Through Learning. I plan to add in more of their lapbooks as we study other concepts in the future.
If you are looking for a hands on way for your student to learn history, science, Bible, or almost any topic, lapbooks from A Journey Through Learning might be exactly what you are looking for. Find out what other members of the Homeschool Review Crew though by clicking on the graphic below!