*Read to the bottom to get a code for a free project from Home School in the Woods!*
We love using the hands on approach to learning, especially when it comes to subjects like history. We have used quite a few products from Home School in the Woods in the past, and have never been disappointed. So when AJ and I were given the chance to try out one of their Activity-Paks we were excited. There are a few different products available including; The Old Testament, The New Testament, Composers, Artists, and a new product Make-a-State Activity.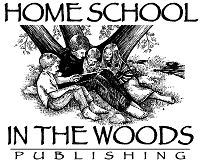 We had the opportunity to review
The New Testament Activity-Pak
.
What is The New Testament Activity-Pak?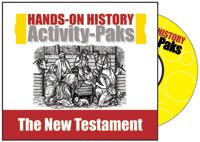 The New Testament Activity-Pac is a great way for your child to get an overview of the people and events of the New Testament. It includes a lapbook with 15 mini books for your child to create. Each one is a little different. Your child will learn about the lineage of Jesus, the miracles that he preformed, the prophecies he fulfilled, and more. They will also learn about each of his disciples and the places that Paul wrote to.
The study also includes The Armor of God activity. In this activity your child will learn all of the parts of the Armor of God that they should put on each day. You can glue a picture of your child on the page. Then after learning about all of the parts of the Armor of God, like the shield of faith, your child can symbolically put the armor on each day, as they put the armor on their picture. This is a great visual for younger kids to understand more about the Armor of God.
The final part of the study is the New Testament News. This is a news paper that your child fills out based on the events that took place in the New Testament. There are a few different ways to make the news paper. If you are crafty, you can make it look like a scroll from that time period, or you can simply make it like a regular newspaper. I love that there are options. The news paper has story headings and ads placed to help your child create their news paper.
How We Used The New Testament Activity-Pak
The Activity-Paks are recommended for kids in grades 3 through 8. AJ is just outside of this range as she just started 9th grade. Our goal was to use this Activity-Pak as a jumping off point for a year long study of the New Testament. This is not how it is designed to be used. Your student should be able to complete the study in about a month depending on the pace you go. There are not really any directions or a set schedule to follow. That is one thing that I love about Home School in the Woods, you can use the materials however they fit your family.
AJ started with the lapbook. She started with the Lineage from David to Jesus. I had expected her to have to look something up, but she didn't. All she had to do was cut out the booklet and glue it into the lapbook. I decided she needed to do more than that. So I had her look up each verse that was listed that showed the lineage. There were quite a few verses. But I think having her look them up in her own Bible cements the facts better.
Then she worked on the Prophesies Fulfilled mini book. This had her cut out pages that had lists of Old Testament Prophesies and where they were found in the Old Testament. Then It had the verses in the New Testament where Jesus fulfilled the prophesies. There were text boxes with each verse written out that AJ had to cut out and match to the correct prophesies. This was one of AJ's favorite mini books. As she was doing it, she looked up each verse in her Bible and then glued the verse that matched into the booklet.
She thought the Armor of God project was a little babyish, so she looked everything up and glued the pieces to the paper. Then instead of hanging it in her room, she just put it in her folder.
She also worked on the newspaper. She added a few articles to it and drew a few adds.
What We Thought About The New Testament Activity-Pak
Honestly, we were a little disappointed with the New Testament study. The products we have used in the past, like the US Election Lap-Pak, had more detailed instructions. There is not any text included, because you can use your own Bible, but I did expect some instruction. The news paper doesn't give you details as to where to find the information to write the article. You are given an article headline and then have to look and find where in the New Testament the event took place. I think that simply adding the chapter where the child could read about the event would be extremely helpful.
The lapbook pieces include a lot of coloring and cutting, but they don't really promote learning. None of the ones that AJ has completed required her to write anything. They have all of the answers available and just need to cut and paste. I understand that this is great for a third grader, but it isn't as great for a seventh or eighth grader. I wish that there were at least a few booklets that had blank options available so that older students could write some of the information. That is one thing that I really appreciated with the US Election Lap-Pak.
This particular product was not a great fit for our family. But if you are looking for a simple supplement to your current Bible study this would be perfect. It would also be great for students who like Lapbooks but don't enjoy writing. AJ did learn a lot from this study, and I plan to have her finish it, it just wasn't as good as the other products that we have used from Home School in the Woods in the past.
Other Products from Home School in the Woods
Home School in the Woods offers numerous hands on history products that make teaching history fun. AJ loved their Middle Ages Study. If you are looking for a hands on approach to history you might want to try out one of their other product lines including; Time Traveler American, Lap-Paks, or their Timeline Trio. We plan to try out more products from Home School in the Woods in the future!
Home School in the Woods has also recently announced something NEW! They will be selling some of their products alacarte. You will be able to purchase individual items that are normally found in packages. There are quite a few learning games and time line pages available. To kick off this new idea, they are giving away a free Erie Canal project. Just use the code alacarte at checkout.
Click on the graphic below to see what other members of the Homeschool Review Crew thought about a variety of products from Home School in the Woods.