Finding a literature curriculum for AJ wasn't easy. Most of the programs that I looked at wanted her to read ten or twelve books for the course. While that may be a good fit for some students, it isn't a good fit for AJ. AJ is a reluctant reader who is a little bit below grade level in reading comprehension. She can usually read and understand any book that I assign her, but it takes her a little longer and she may need to read a section a few times to completely grasp it.
When I was about to give up and make my own literature program, I was blessed with an amazing review. We were given the opportunity to review the American Mid-Late 19th Century Lightning Literature book from Hewitt Homeschooling.  It looked exactly like what we needed.
American Literature: Mid-Late 19th Century
This is a high school literature and composition course. It is designed for students who are new to Lightning Literature. It can be used by a student at any level in high school.
The course is designed to last for one semester, but it can be used for a full year long course if you add in your own grammar program.
The main part of the course is the student guide. The student guide is a 170 page soft covered book. It is written by Elizabeth Kamath. The book starts with an introduction and is then broken into four units. The end of the book has discussion questions, additional reading lists, project ideas, and a course schedule.
Introduction
The course introduction does much more than explain how to use the course. It is full of information on how to properly read and write both poetry and prose. It has basic writing guidelines and is a good place for the student to reference throughout the year.
Unit 1
In this unit your student will read Uncle Tom's Cabin. The literary lesson will focus on theme. Your student will also read selections from the poem, Leaves of Grass. They will learn about sound and imagery in poetry.
Unit 2
This unit has your student learning about humor while reading Adventures of Huckleberry Finn. They will also read a short story, "The Outcast of Poker Flat." While reading the short story they will learn about local color.
Unit 3
Your student will learn about register (or tone as I was taught) while reading a selection of poetry written by Paul Laurence Dunbar. They will also read through The Red Badge of Courage while learning about description.
Unit 4
The final unit teaches your student about figurative language while they read through poems written by Emily Dickson. They will also study point of view while reading through The call of the wild.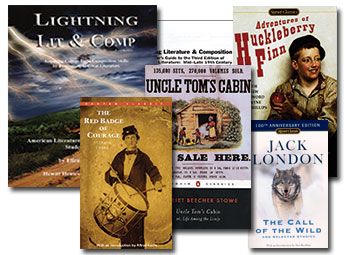 All of the poetry and short stories are included in the Student Guide. You will need to purchase the four novels separately.
How each Unit is Set Up
Each unit begins with an introduction. It includes a short biography about the author and a little bit of information about the selection your student will read. It includes things for the student to think about while they read.
There are comprehension questions for the student to answer as they read. The questions are fairly easy and most of the answers can be found directly in the text. Some questions do require the student to think critically about the selection.
The student then reads through the literary lesson. In this section the author explains concepts while using examples from the reading selection. The lessons are very well written and self explanatory. I was impressed that after reading through the lesson, AJ was able to understand how the setting of a story can affect the theme.
The final assignment after each reading selection is the writing exercise. The student is given a choice of five or more writing assignments. There is a variety of options including; opinion papers, compare and contrast papers, augmentative papers, short stories, poems, and more. For each novel the student completes two of the writing exercises. They complete one exercise after poems or short stories.
I also received a teacher guide. It included additional information about the course and scheduling. The main perk of the teacher guide was that it included all of the answers to the comprehension questions.
Since AJ struggles with literature, we decided to follow the full year plan. We added in a grammar program and followed the schedule in the back of the book. Most weeks it had her reading five chapters in the book and answering the comprehension questions.
Uncle Tom's Cabin is a very long book, so we were not scheduled to get to the literary lesson or writing assignments during the review period. I wanted to provide a full review, so I had AJ read through the literary lesson on theme for Uncle Tom's Cabin. She hasn't completed a writing assignment yet, but she thinks that they look interesting. Right now she thinks she will answer the following question.
Write a paper focusing on any character other than Tom in Uncle Tom's Cabin. Discuss the ways Stowe used that character as an argument against slavery.
The year long schedule gives her a week to write and revise each paper.
American Mid-Late 19th Century is the literature and composition course that is perfect for AJ. It would be too much for her to complete two student guides in a year, but one guide is very doable. This option is a huge selling point for me! The novels, poems, and short stories offer a good amount of variety. We both enjoy that there isn't any busy work. The student reads and writes quality material that is related to the lesson.
I like that she is challenged to write in so many different ways, and that she is given enough time to do a good job on her writing. I do wish that there was a bit more writing instruction in the book. The introduction is great, but there are some writing types that it doesn't cover. That is our only complaint about the program.
I feel the lessons about poetry will really help AJ to finally grasp some of the difficult concepts. Poetry can be difficult to teach, but I think this will make it possible.
If you are looking for a literature and composition course that is flexible, free of busy work, and cost effective, then the American Mid-Late 19th Century Lightning Literature may be exactly what you are looking for. Click on the graphic below to find out what other members of the Homeschool Review Crew thought about Hewitt Homeschooling.