AJ plans to go into a scientific field after high school. So I am constantly looking for good quality resources that will really prepare her for college and beyond. I want something that helps her to fully understand the information, beyond just learning to pass a test. When we were given the chance to review Introductory Physics from Novare Science & Math I thought that it would be a great fit for AJ.
What is Introductory Physics?
Introductory Physics is a textbook written by John D. Mays that is almost 400 pages long. Unlike most physic courses, it is designed to be used by freshmen students. The book provides a very solid overview of physics in a way that a student who has taken or is taking Algebra 1 should be able to understand.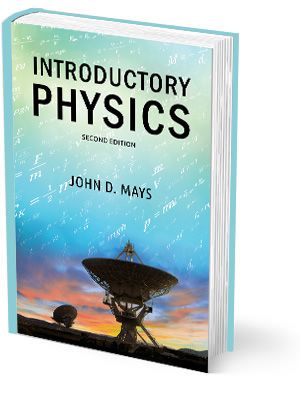 It is smaller than most high school science texts because it is a mastery based program. A student should be able to learn and understand the information in this textbook over the course of a year. That is not often the case with other science textbooks.
The book begins with a Preface for Teachers. In this section the philosophy behind the textbook is explained. The mastery approach is explained as well as information about calculator use and class homework. It also lists optional materials that would be helpful in teaching the course; including the Teacher Resource CD that we received. (We received a download of the CD for review purposes, but if you purchase one you will receive a physical CD.) This section is fairly short, but I felt more comfortable teaching the course after reading it.
There is then a Preface for Students. This section explains what is expected of the student. It also provides study strategies to help them become successful in the course.
The book is then divided into 13 chapters. Two of the chapters are optional, chapters 8 and 13. The author recommends skipping them when used for 9th grade students because the other chapters provide more than enough to cover in a course. The math is also more difficult. These chapters can be used if the student is older or has more math experience.
The 13 chapters are:
1. The Nature of Scientific Knowledge
2. Motion
3. Newton's Laws of Motion
4. Energy
5. Momentum
6. Atoms, Matter, and Substances
7. Heat and Temperature
8. Pressure and Buoyancy*
9. Waves, Sound, and Light
10. Introduction to Electricity
11. DC Circuits
12. Fields and Magnetism
13. Geometric Optics*
How the Chapters are Set Up
Each chapter begins with a list of objectives that the student should be able to do by the end of the chapter. Throughout the chapter there plenty of examples, diagrams, and color photos to help explain topics. When new formulas are explained there are multiple worked out examples. The author shows all of the steps so that the student can completely understand how and why to use the formula.
One thing that is neat about this science book is that the student learns about more than scientific concepts and formulas. They also learn about famous scientists who changed history. AJ enjoyed learning about the scientists as well as the theories that they came up with.
At the end of each chapter there is a set of exercises for the student to complete. For most chapters the exercises are broken into two sections; mathematical conversions or computations and study questions. The number of questions and question types varies by the chapter. Chapter two has 36 mathematical questions and 16 study questions, where chapter 12 just has 12 study questions.
The answers to the mathematical questions are listed in the textbook after the questions. This way the student can check their answer to make sure they are using the formulas correctly. The only down side is that the problems are not worked out, the answers are just given. So if the student doesn't know why they got a question wrong, they are forced to figure the answer out on their own. The good news is that you can purchase all of the answers worked out separately. The answers to the study questions are not listed, but they can be easily found in the chapter.
The student should complete five experiments during the course. The directions and helpful information about the experiments are listed in the back of the book.
The last 62 pages of the textbook is devoted to helpful information. It includes a glossary, reference data, formulas and objectives, the laboratory experiments, important scientists, a section on accurate measurements, and an index. I was surprised by how much information the back of the book contained. I especially liked having a list of all the formulas and objectives that AJ needed to master in one place.
You could teach the course using only the textbook, but it would be easier with the Teacher Resource CD.
The Teacher Resource CD contains:
Course Overview and Schedule – This shows how you can teach the course in an average of four days a week. It breaks down each lesson showing what parts of the book the student should read and what problems they should work out. To me, this section was very valuable. It would be hard to figure out how much a student should do each day and how long you should spend on a chapter without the schedule.
Weekly Review Guides – These are for the student to do in addition to the book work. It includes things that the student should reread or study so that they retain the material. It also includes a few problems that the student should be able to work out.
Weekly Quizzes and Keys – Each answer is worked out so that you can easily grade the quiz. In the course overview there is an explanation on how to grade and what percent each thing is worth.
Semester Exams and Keys – Again everything is worked out for you.
Sample Answers for Verbal Questions – This has answers to the study questions from the textbook as well as the written answers from the quizzes and exams.
How We Used Introductory Physics
AJ worked through the book a few times a week. Chapter one was really hard for her. It went in-depth about what truth is and how we know something is true. She had a hard time grasping the information. To be honest the section was a little hard for me to understand. It is well written and there isn't anything wrong with it, but it is something that I was never taught before. I feel the chapter is important as it explains how science can change and that scientific facts are not necessarily true. She was a little frustrated, since science usually comes easy to her, but once we got past chapter one things got a lot better.
Chapter two was on motion. This section had her start off by converting measurements. She liked how each step was shown. It showed her how to convert gallons per seconds into liters per hour and other similar conversions. It also went into detail about significant digits. She had learned about significant digits in the past, but this was the first time that she really understood why they were important.
Each day she would read through the section that was assigned and we would discuss it. She would try to do the sample problems on her own and would answer any questions as we got to them. She would also complete whatever review activities were assigned.
I decided not to have her do the weekly quizzes at this time. We had already planned to have her do biology this year and will put this course away until next year. At that time I will have her do the quizzes to make sure she remembers everything, and then she will do the quizzes weekly.
What We Thought about Introductory Physics
After the first chapter AJ really enjoyed the course. She liked that there were enough pictures and diagrams to help her understand the topics. She also enjoyed the touches of history throughout the book. Her favorite part was the math. She loves math and liked to see it used in real life situations. The word problems were often set up to model real life. AJ struggles a little bit with word problems, but I can see that doing the problems in the book have helped her to improve already.
She wasn't a fan of some of the reading. She is a struggling reader, so there were times when I had to re-explain something to her. There is a higher level vocabulary than she is use to and there are a lot of scientific terms used. But I don't think this would be a problem for a student who is reading solidly at a 9th grade level.
AJ's only other complaint was the number of experiments. She is use to programs that have experiments almost every week, only having five for the entire course was disappointing to her. What I did was use the objectives in the back of the book to add in a few more experiments to help her. I actually like only having five experiments. Then I can add more if I want, but I am not forced to find materials for twenty or thirty experiments that may not really help her learn anything. If you want to make this a lab course, you can purchase Experiments for Introductory Physics and ASPC it is designed to go along with the course.
What I Thought
I really liked the companion CD. It made teaching the course easy. All I had to do was print the weekly review sheet and follow the schedule. Having the answers to the study questions made grading AJ's work easy. I didn't have to read through the chapter to make sure she had the correct answer.
I feel like the lessons were broken down into a good size. The amount of reading and problems to be completed in a day was reasonable. Even my slow reader was able to finish her daily work in under 45 minutes. I also like that the course can be taught in four days a week. This leaves time for additional studying and lets you spend longer on a section if needed without falling behind.
I think the idea of this mastery based science is genius. I know when AJ finishes the course next year that she will have a solid grasp on physics, and that she won't forget it right away.
If you are looking for a mastery based science textbook that includes scientific history, has great explanations, plenty of examples, and doesn't include a lot of busy work, then Introductory Science from Novare Science & Math may be exactly what you are looking for.
Novare Science & Math also offers other science courses. Other members of the crew received Earth Science: God's World, Our Home   (a middle school science course) and General Chemistry. Other members of the crew received a neat reference book for teachers called, Science for Every Teacher. Click on the graphic below to see what other members of the Homeschool Review Crew thought about the products from Novare Science & Math!