If you have a high school student then the product that AJ and I were recently able to review will interest you. AJ just finished her 8th grade year. While I thought long and hard if homeschooling her through high school was the right decision, for us there really wasn't another option. One of the amazing opportunities that we are presented with when we homeschool through high school is the ability to tailor their education to fit them and their future goals. One way we can do that is to offer them electives that will give them the skills they need to succeed in the future.
An internship is something I had never thought to look into for AJ. But when we were given the chance to review Internship for High School Credit from Apologia Educational Ministries I began to discover all kinds of opportunities that AJ can take advantage of in the future. She wants to be a veterinarian, so an internship might be the perfect thing for her.
Internship for High School Credit is a 99 page spiral bound book written by Sherri Seligson. It is a workbook that is jammed full of information that will help you in every step to getting and completing an internship. It is broken into five sections. Some are for the parent and others are designed to be used by the students.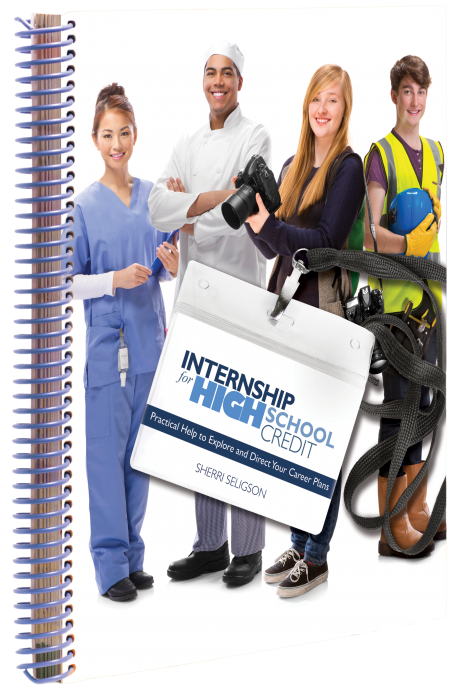 Part I: Getting Started
This section of the book is basically an overview about internships. You learn types of places that you can intern, how to get high school credit, and things to do to prepare for an internship. Resumes are explained and a sample is provided to help you create your own. You are also given a sample letter of introduction, the letter you would send to prospective job opportunities. It also includes interview tips and what to do once you get the position. This section while great for internships, would be great for anyone looking for a job. It includes practical advice and things your student might not think about – like not wearing too much perfume to the interview.
Part II: Information for Parents
This section is for the parents, but the student should read through it as well. It is a short section that has some great advice. It talks about child labor laws. This section also focuses on how to name the course and how you should assign grades for an internship.
Part III: First Semester
This section is for once your student has secured their internship. There is a worksheet where the student lists skills that they hope to obtain during the internship.  At the end of the first semester they list both office skills and career related skills that they have learned.
It also contains 16 weeks worth of worksheets that the student is to complete while they are completing their internship.  In the beginning the worksheets ask the student simple things like; their position, a description of their duties, and their workplace attire. As the weeks go on their are questions that require the student to ask their supervisor for things they need to improve. They are also asked to list areas of specialty in their chosen career and how the internship has affected their career goals. Each weekly worksheet is only a few questions and should be able to be completed in less than 30 minutes.
There are also work performance sheets for both midterm and the end of the semester. These are worksheets that the student has their supervisor fill out and rate them regarding their performance. I like that this is all set up so that the parent doesn't have to come up with something. And the student knows what they will be evaluated on in the beginning.
Part IV: Second Semester
For the second semester things are changed up a little. Instead of filling in worksheets there are writing assignments every two weeks. Some of the assignments include comparing your first weeks of the second semester to the responsibilities you had at the beginning of the first semester. There are also questions based on what the student thought the day to day experience in the job would be like compared to what it really was. Each assignment is a little different, but they all require the student to take a greater look at the job and themselves. Since these are all one to two page writing assignments they will take longer to complete, but the student is given two weeks to complete them.
This section also includes two more work performance sheets for your supervisor.
Part V: Course Wrap-Up
This section is for once the internship is complete. It includes a final writing assignment and a sample thank you letter to send to your supervisor.
AJ is a little too young to use this book right now. She isn't old enough to complete an internship in our area and isn't mature enough to handle the responsibility. That said, we are both extremely grateful for the chance to review it and will be using it in a few years. It has everything broken down and organized to make the process on completing an internship easier. I like how everything is open and go. As a parent I don't need to do very much other than help her make choices regarding the internship and grade her work.
I really like the idea of the performance evaluations. They will help to keep the student on track and teach them how to take criticism and improve themselves. I also like that the worksheets help to keep the student focused on their goals. Throughout the book tips are included that will help the student to become a model employee. As someone who was responsible for hiring and evaluating employees in the past, I feel that some of the tips would help the majority of new employees, even if they are not completing an internship.
If you have a high school student who is interested in learning more about their chosen career then an internship is a great idea. Internship for High School Credit would make a great addition to your high school resources. Do you think your student would enjoy an internship?
The people at
Apologia Educational Ministries
  also gave the choice to review a different product,
How to HOMESCHOOL with Stunning Confidence, Contagious Joy, and Amazing Focus (DVD & Coursebook)
. We didn't try it out, but other members of the Homeschool Review Crew did, and it looks like a great resource for beginning homeschoolers. Check out the reviews for both products by clicking on the graphic below.