We school through the summer and take Thanksgiving through New Year's off. We started our new school year about three weeks ago. AJ has officially started high school! Time has gone by so fast. I still remember making the decision to pull her out of public school like it was yesterday.  Picking out her high school courses wasn't easy, but we are both happy with the final decisions. Here are the core subjects that she will be working on for her freshmen year.
Math
She will be taking
Geometry
this year. A few years ago we were blessed with the chance to review
Pre Algebra
from UnLock Math, and it was amazing. When I found out that UnLock Math had a new Geometry program, I knew that I wanted to have AJ try it out. I was ecstatic when we were blessed with the opportunity to review it. My formal review will be in a few weeks, but we love it. Everything is explained in a step by step manner and there is plenty of review built in. She will be sticking with UnLock Math for the year.
In addition to UnLock math she will continue to work on Khan Academy for 15 minutes twice a week. UnLock Math is more than enough, but I want her to continue to work on skills other than geometry so that she doesn't forget those algebraic skills. I figure mastering a few new skills a week will make Algebra 2 easier when she takes it next year.
History
This year she will be taking World Geography. We had planned on her taking this course last year, but she didn't get very far. Instead of using just a textbook approach, she will be using an online course with the book as a supplement. She will be using the World Geography course from Easy Peasy High School. So far we both really like it. She is using the book we have to help her with map work and to do research.
English
This was the hardest subject to decide on. I decided I really wanted something that was put together for me. For middle school I made most of her book studies and pieced things together. It worked out and she learned quite a bit, but it was a lot of work for me. Reading novels is not something that AJ really enjoys. So I wanted a program that had her reading, but that didn't require her to read so many books that she would feel overwhelmed. I had my options narrowed down to a few programs, and then we were given the chance to review Lightning Literature. It was one of the programs I wanted to try out! We have been using it for a few weeks now and will use it for the rest of the year. Our review will be posting in a few weeks.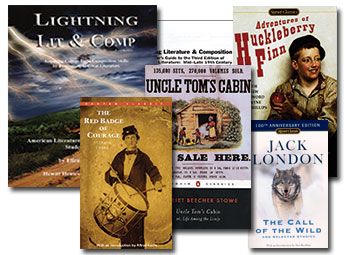 She will be using their American Literature: Mid – Late 19th Century. There are a few ways to use the program. I decided to have her use the course over an entire school year. She will read four books during that time;
Uncle Tom's Cabin
,
Adventures of Huckleberry Finn
,
The Red Badge of Courage
, and
The Call of the Wild
. There are also short stories and poetry that she will be reading.
In addition to literature, she will also continue with Analytical Grammar. Even though Lightning Literature has writing assignments for each novel, short story, and poetry selection, there isn't really writing instruction. Since writing is the subject she struggles with the most we decided she needed something that would provide more instruction. She did very well with IEW's Writing Intensive level B so we decided to try out another one of their products – US History Based Writing Lessons. It has the instruction she needs but isn't overwhelming so it can easily be added to her workload.
Vocabulary will be taken from her literature books and from her writing lessons.
Science
This year AJ will be taking two science courses. She would take more if I let her. AJ loves science and anything that has to do with animals. She will be taking Biology and Animal Science from SchoolhouseTeachers.com
Biology is a great introductory biology course. It has a lot of flexibility and lets you go as in-depth as you want with the course. There are optional microscope experiments and dissections that we will be doing to make sure AJ gets a lab science.
Animal Science can be either a half credit or full credit class depending on the activities you decide to complete. There are 27 weekly lessons that will teach your child all about animals.
There are a few activities that I don't plan to have AJ complete, but I wanted to make sure it was a full credit course. She has been working on
Nature's Beautiful Order
from Memoria Press and between the two there will be more than enough work to award her a full credit of Animal Science. So far AJ loves this course.
Those are the core subjects that AJ is taking this year. She is also taking a few different electives that I will share later on this week. Have you decided what courses your child will be taking this year?