AJ has a love hate relationship with writing. She loves making up stories and telling them, but hates writing them down. About two years ago we were blessed to be able to try out a writing program from the Institute for Excellence in Writing. IEW changed how AJ viewed writing and changed how I viewed teaching it. Her writing has improved so much over the last few years, but there is still plenty of room for improvement. We were recently given the chance to review the revised version of the High School Essay Intensive   , and I knew it was something that AJ needed.
What is the High School Essay Intensive?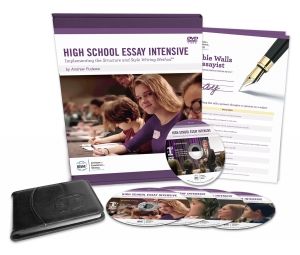 The High School Essay Intensive is a course that is available streaming and on DVD that walks the student through the process of writing an essay. The course is taught by Andrew Pudewa. Mr. Pudewa has a way of teaching that keeps your interest and makes you want to watch him. While watching the course you feel as if you are in one of his live classes. There are students in the film and the majority of his time is spent at the front of the room writing on a whiteboard.
The course is broken into four sections.
Part 1: General Strategies for Essay Writing – This section takes up two DVDs. Mr. Pudewa goes through everything you need to know about writing an essay. He covers; different types of essays, how to organize an essay and what each paragraph should contain, how to determine the structure of an essay, how to determine what to write, ideas to improve the style of your writing, and so much more. He doesn't just tell you to write an introduction, three body paragraphs, and a conclusion. Instead, he breaks each part down and explains what to write and how to write it. Even if you have a basic idea about how to write an essay, you will learn numerous ways to improve your writing skills.
Part 2: Understanding and Preparing for the New ACT Essay – This section has a DVD devoted to it. Mr. Pudewa explains the requirements for the New ACT. He goes into the time limit, grading scale, and gives tips for what the evaluators are looking for. He also provides writing strategies that will help you on the day you take the test.
Part 3: Understanding and Preparing for the Redesigned SAT Essay – This section also has a DVD devoted to it. This section is set up very similarly to part 2. Mr. Pudewa goes over the new requirements for the SAT while giving tips and tricks to help you write the best essay possible.
Part 4: Strategies for the "Personal Essay" – This section is on the final DVD. Writing about yourself is often a difficult task. In this section Mr. Pudewa gives examples of essay prompts from a few different colleges. He gives strategies for what to write and how to organize your personal Essay.
Along with the DVDs you also receive a 25 page student handout and the Portable Walls for the Essayist. The student handout includes an initial exercise and a final essay practice. It also has plenty of room for the student to take notes while watching the DVDs. Once your student fills in their student handout, they will have a great reference to look back on when they write an essay in the future. The Portable Walls for the Essayist is a very valuable tool. I think any student who is learning about essay writing would benefit from it. It is a foldable resource that contains all kinds of tips and tricks to help you write an essay. It is available to purchase separately, and I would highly recommend it.
What We Thought of the High School Essay Intensive
When AJ heard we were trying out a writing program she wasn't too excited, until she found out it was from  the Institute for Excellence in Writing. She understands the way Mr. Pudewa teaches and enjoys watching his DVDs. Since AJ hasn't written an essay before this course was a little intimidating to her at first. But once she started to understand that an essay isn't that hard to write, she was more comfortable. Each day I had her watch the DVD and take notes for a while. We finished part 1 and since she has a few years before we have to think about the SAT or ACT we are going to hold off on the other parts of the course for now.
Mr. Pudewa took something that AJ didn't think she could do, write an essay, and made it something obtainable. By explaining each step he made the task of writing easier. Writing still isn't her favorite subject, but her skills are continuing to improve.
We only had one complaint about this course. At times the camera would zoom out while Mr. Pudewa was writing something on the whiteboard. AJ found that a little distracting. It didn't happen too often, but I felt it was worth mentioning. Other than that, the DVDs are very high quality.
If you have a student who is planning on taking the ACT or SAT, or one who needs to improve their essay writing, then the High School Essay Intensive from the Institute for Excellence in Writing may be exactly what you are looking for.
Find out what other members of the Homeschool Review Crew thought by clicking on the graphic below.