AJ is a very reluctant reader. If a book isn't about animals or scientific in nature, there is a strong chance that she will complain and drag her feet when reading a book. Her reading skills have greatly improved over the last few years but her desire to read hasn't. Thankfully, I have discovered a few different authors that she enjoys. One of AJ's favorite authors is Susan K. Marlow. When I found out that we were going to have a chance to review two of her new books, I was thrilled. AJ is older than the recommended age for the books, but I knew she would enjoy them.
We were sent two fun filled adventures from Kregel Publications ; Andi Saddles Up and Andi Under the Big Top. These books are part of a new series called Circle C Stepping Stones. They take place between Circle C Beginnings and Circle C Adventures when Andi is nine years old. It is perfect for 7 to 10 year olds who are not quite ready for longer chapter books and for anyone who is interested in Andi's story.
If your family hasn't been introduced to Andi and the Circle C Ranch, you are missing a great series of books. They follow the life of Andrea Carter, a little girl growing up in California in the late 1800's. Her family lives on a ranch and she finds herself in numerous adventures. She is a spunky girl who tries to do the right thing but learns valuable lessons about growing up, faith, and family along the way.
This 104 page soft covered book is broken up into 12 chapters and a History Fun section. It starts off with Andi turning nine years old. She gets a brand new saddle for her horse Taffy and wants to learn how to trick ride. Her brother tells her it isn't safe and instead shows her a special place on the ranch. Andi ends up meeting a new friend in her special spot, but their two families are feuding over land and the girls are told they can't be friends. Will Andi listen, or will she try to trick ride on her own? Will the girls be able to stay friends, or will the fighting adults keep them apart? You will have to read the book to find out.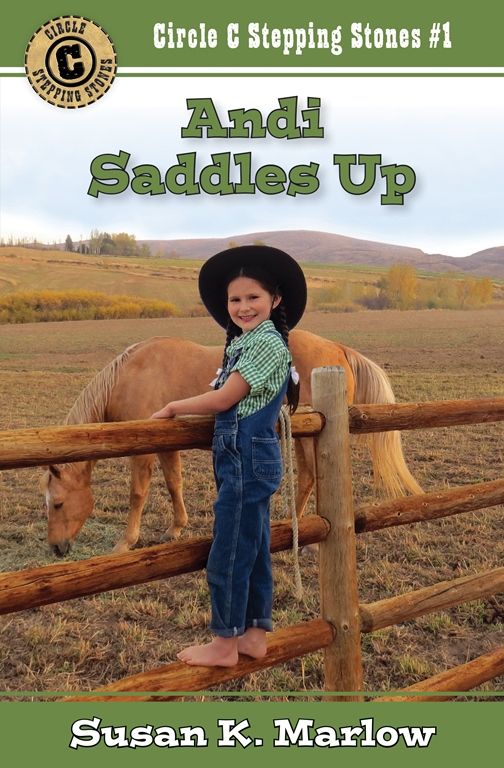 This book is full of lessons. From friendship, to obedience, to compromise. There is also a lot of historical information to learn as well. Your child will learn a lot by reading the book, but they can take their learning a step further by using the free Study Guides that go along with the book. They have reading comprehension questions, vocabulary,
poetry, math and science activities, and more. The Study Guide is paced so that your child can finish the book and activities in 28 days, but AJ finished them in a week.
This soft covered book is 105 pages is also broken into 12 chapters and a History Fun section. In this book the circus is coming to town. When Andi and her family go to the circus they see all of the fun and excitement. There are acrobats and elephants, and even a bare back rider. Andi meets a young boy who works at the circus, and she thinks that Henry is lucky to be able to be at the circus every day. Andi soon finds out that his life isn't very easy. He had ran away from home and now wanted to go back but couldn't. Will Andi find a way to help Henry? What other adventures await? You will have to read the book and find out for your self.
This book drives home the importance of helping others and of family. Using the Study Guide will give your child the opportunity to learn more about the circus. They will even have a chance to make their own stilts! They will also learn about trains and telegrams. There is a lot to discover in this Study Guide.
How We Used the Books
When the books came in the mail, AJ grabbed them and started to read. She started with Andi Saddles Up and was thrilled to learn more about Andi's adventures. I printed off the Study Guide and had her do a weeks worth of work each day. It took her about an hour to read three chapters and do all of the Study Guide activities. If she was younger, I would have probably had her read a chapter a day, but she was easily able to handle the expedited pace. The following week she read Andi Under the Big Top and completed the Study Guide, but she didn't make the stilts. She had a great time reading and working on the Study Guide.
What We Thought
These books were not a disappointment! They lived up to the fun adventures that we have come to expect from Susan K. Marlow. They are wholesome, exciting, and make for some good discussions. One thing that AJ likes is that while the books can be read as a stand alone, they really go well together.
I can't believe how well put together the Study Guides are, or that they are free. (You can purchase them pre printed. Downloading them and printing them yourself is free) They are well thought out and a lot of time was put into them. AJ was writing poetry, adding up the cost of circus snacks, doing cross word puzzles of vocabulary, filling in maps, and learning about the historical time period. The activities make the book come more to life.
If you have an Andi fan, you need to check out these books. If you have a younger child who is interested in adventures, horses, or the old west, you need to check these book out. You won't be disappointed.