When I was little I remember receiving my very first Bible. It was The Beginner's Bible. I read it all of the time and until a few years ago, I still had it. It was even the first Bible that AJ used when she was younger. I loved the short stories and she loved to flip through the pictures. It had a lot of use and we both learned more about the stories in the Bible from it.
Even though AJ moved onto a regular Bible a while ago, I was happy to find out that
Zonderkidz
had recently come out with a updated version of
The Beginner's Bible
. AJ and I were eager to check out the new version.
What Is The Beginner's Bible?
The Beginner's Bible is a  Bible geared especially for kids ages 4 to 8. It is a hard covered book full of vibrant colors and kid friendly language. It is over 500 pages long with large text to make reading easier.
Since there are some words that may still be a little hard for kids to understand, there is a short but helpful Bible Dictionary at the end of the book. When your child comes to a word in italics while reading the story, they can turn to the end of the book and find out what it means.
The Beginner's Bible includes the major stories from both the Old and New Testaments including; Adam and Eve, The Ten Commandments, Samson, David and Goliath, The Birth of Jesus, Lazarus, and many more. It also contains lesser known stories including; Jars of Oil based on 2 Kings 4:1-7, and A Gift for Jesus based on John 12:1-8.
At the beginning of each story you will find the book, chapter, and verse where the story can be found in the regular Bible. I think that feature is one of our favorite things about this Bible. It makes it easy for the child to see that these are not just a bunch of fairy tales, but that they are real stories from the Bible.
How to Use The Beginner's Bible?
There are so many ways to use this Bible! Younger kids will enjoy listening to the stories and looking at the beautiful pictures. Older kids can spend time reading and learning on their own. It is also a great book to practice reading. Having your child read a few stories a week will not only help to improve their reading, but it will help them learn more about God's Word. There are quite a few worksheets and coloring pages that you can print off to go along with the stories to make Bible time even more exciting.
What Did We Think About The Beginner's Bible?
The biggest difference between this new Beginner's Bible and the one that I grew up with is the illustrations. These seem to almost jump off of the page.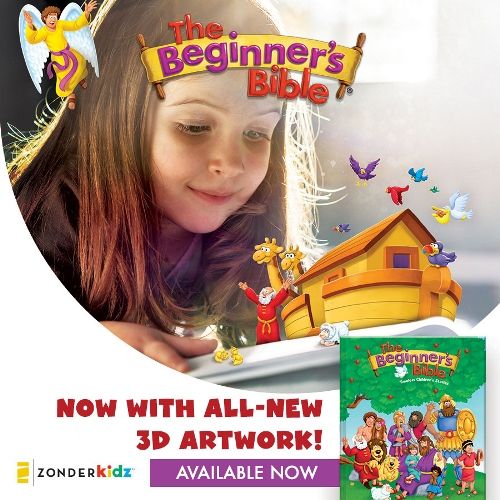 They have taken the pictures that AJ use to love to look through and made them even better! It is still the same great story Bible that tells the important stories of the Bible in a way that kids can easily understand.
If you are looking for a good Bible, this is one you should check out!
Find out what other members of the Homeschool Review Crew thought about the Beginner's Bible by clicking on the graphic below.