AJ is a kid that enjoys doing worksheets, so I am often on the look out for things to supplement the topics we are learning about.  The problem is that since she is in 8th grade, a lot of  worksheets and unit studies that I find are too easy for her. Sometimes I make up my own worksheets for her to complete, but most of the time I just don't have the time. We were recently given the opportunity to review the CHSH Download Club  from CHSH-Teach.com. When I first looked at the Christian HomeSchool Hub, I knew that it would be a resource that I would use frequently over the next year.
What is the CHSH Download Club?
I  had never heard of the CHSH Download Club before this review, but I wish I had. The CHSH Download Club is an online resource that gives you access to thousands of pages of educational materials. It includes worksheets, literature studies, full curriculum, supplemental materials, flash cards, puzzles, coloring pages, and more. For one small price of just $25 a year (or $99 for a lifetime membership) you have access to everything on the site. There are materials for grades preschool through high school.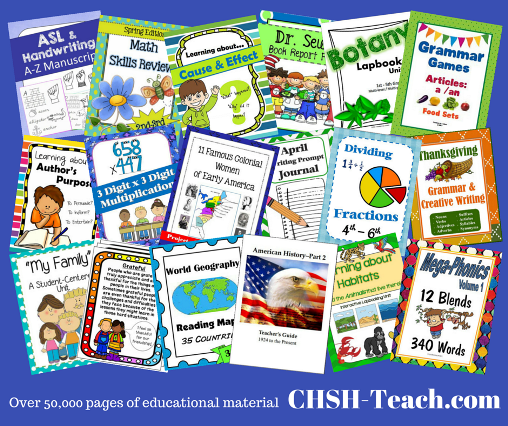 The site makes it easy to find exactly what you need. The materials are organized by; subject, grade, and month. I have to say that I was amazed at all of the different things available, and I was thrilled to see that there is an entire section for high school. It includes:
Literature Studies – Including Shakespeare
English Composition and Language Arts – 4 Years of High School English
Social Studies – Including a full World History and American History course
Math – Including a Collage Level Algebra Book and Answer Key
Science – Including Biology and Physics
AJ won't be in high school until next year, but I looked over a lot of the high school resources and think we will probably use the World History and Biology courses next year.
How We Used the CHSH Download Club
We are studying modern history this year. We have been learning about different important people throughout history. I looked through our history curriculum and saw that AJ would soon be learning about Amelia Earhart and the Wright Brothers. So I looked to see if there was any information on either of the two topics. There was!
I quickly found three resources for Amelia Earhart under the Social Studies topic of "People throughout History." There is a unit geared for 3rd through 6th grade and a unit geared for 4th through 8th grade. There is also an Amelia Earhart shape book. I decided to use both of the units about Amelia Earhart. The first one she did was the one geared for kids in 3rd through 6th grade. That one basically had her read about Amelia Earhart and then fill in charts and answer questions about the reading. I felt that study would have been perfect for the 3rd through 6th grade age range. After she finished with that unit she was going to start on the 4th through 8th grade unit. Unfortunately, when I clicked on that unit it said that the file was not found. I was a little disappointed about that.
The next unit study I had AJ work on was Wright Brothers: Bicycles to Airplane. It is an 85 page unit study that has 17 different tasks for the student to complete while learning about the Wright Brothers. It begins with pages of information about the Wright Brothers. There are a variety of different tasks including; creating a magazine cover about the Wright Brothers' flight, making an anemometer, researching aviation, locating important places on a map, art projects, poems, giving a speech and more. AJ didn't complete all of the tasks (we still have another week left) but, this unit study is great. It includes so many hands on activities to help students learn about flight. I was excited to see a study that was geared towards older students, and look forward to other studies in the future.
We also used various worksheets throughout the review period. AJ enjoyed the blank periodic table that she could fill in. She also liked the different charts and venn diagrams that were available in the Graphic Organizer download. There are 80 different ones to choose from.
We planned on using one of the literature studies for the novels that AJ is reading. There is a study for almost all of the books she is reading this year.  Even though the literature studies are for grades 4 through 8, I found them to be too simple and easy for AJ. They were mainly simple questions about the plot of the novel and didn't ask any thought provoking questions. I think it may have been perfect for younger students, but not for the 8th grade level.
What We Thought About the CHSH Download Club
After trying out various products from the CHSH Download Club I think it is well worth the cost. There really is something for everyone. Almost all of the resources I looked at were well made and well thought out. I enjoyed how easy it was to use the site and how quickly the downloads came up. Other than the one file about Amelia Earhart, there were no glitches on the site.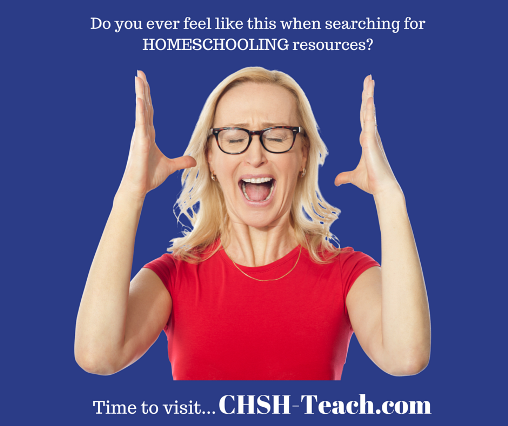 If you are looking for a way to supplement your child's learning then the CHSH Download Club may be exactly what you are looking for. This would be perfect for those who enjoy unit studies or those who want to dig deeper into a concept. We have tried a few different sites over the years that have downloadable resources, and I think so far that this one is the best, especially if you have older students.
Find out what other members of the Review Crew had to say by clicking the graphic below.