We all know it is easier to learn a second language when you are younger. So I have been introducing AJ to Spanish since she was in Kindergarten. We have used a few different programs over the years to help her learn more vocabulary, but I have never stuck with one for a long time. She is in middle school now so I was looking for an easy way to help her learn and remember the basics before we start on a formal curriculum next year. We were given a chance to review a neat Spanish program, Starter Set 1 from Foreign Languages for Kids by Kids, and I thought it would be exactly what I needed to help AJ get back into Spanish mode.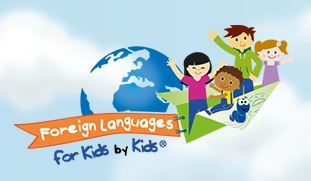 With this program your child learns through watching cute little shows in Spanish. As your child watches the DVD they are able to figure out and really understand the meanings on Spanish words. The DVDs are completely in Spanish, but there are a lot of visual cues to help your child learn what the vocabulary words mean. I really liked the idea of letting the child learn though watching the video instead of simply memorizing lists of words.
We received quite a few things from Foreign Languages for Kids by Kids.
The Complete Spanish DVD Set – This has all three DVDs, Basketballs Aren't for Breakfast, The Little Magic House (Part 1), and The Little Magic House (Part 2) – These are the main part of the program.
Curriculum Guide # 1 – This explained how to use the curriculum and gave extra activity ideas. There is also a certificate of achievement to give to your child once they finish the first video.
Workbook #1 – This is used with the videos to help your child practice what they know. It isn't a required component, but it is a lot of fun. The activities are simple. It is full of colorful images and even gives information about the country of Peru.
Curriculum Guide # 2 – This is for the second level. It is set up the same way as the first guide, but I found it helpful because it listed all of the vocabulary that the child is learning. It made it simple to check if she had figured out the correct meaning of a word.
Workbook # 2 – This book still has simple activities, but they are a little more advanced. It includes more grammar and has geography information about Colombia.
Curriculum Guide # 3 – This guide is for the third level. The games and activities are a little more advanced. One activity it has you do is take your child to the store and have them find all of the fruits and vegetables that they have been learning about.
Workbook # 3 – While the activities are still fun, they are a lot more in-depth in this workbook. The child learns how to conjugate some verbs and they continue to learn grammar. This level has your child act out a skit in Spanish, write a postcard in Spanish, and make a Spanish menu using words that they have learned. There is a big difference between level 1 and level 3.
Sticker Set for Level 1 – This is a set of colorful stickers with vocabulary words on them. Your child is encouraged to put the stickers on items that match the vocabulary. It is a fun idea to help younger kids practice vocabulary.
Flashcards and Go Squish Game – These are used together to practice vocabulary with a fun game.
Your child is suppose to watch a small section of the video each day until they are able to understand the vocabulary in that section of the video. Then as they understand the vocabulary they watch the original section of the video plus another section until they eventually finish the entire video. You are not suppose to tell the child what the words mean, they should learn them on their own. They learn the word libro (book) by showing a boy with a bunch of books around him. The book has the word libro on it and the word is said a few different times while showing a picture of a book. The flashcards and workbooks are additional parts of the program that help your child learn additional Spanish and practice what they have learned.
AJ already knew most of the words in level 1, so we watched the entire video and made sure she knew the vocabulary. She liked the videos and thought they were funny. I felt they were a little odd, but that they would keep kids entertained.
By the second level she was learning a few new words, but it turned out that she knew a lot more vocabulary than either of us realized. I am sure watching the videos helped her remember words she had previously learned, but she was more advanced than the vocabulary and grammar taught by this program. I think it would have been perfect to use when she was younger and just starting to learn Spanish. We went through the videos and workbooks at a faster pace, but I know the process helped her to cement the vocabulary into memory. We watched all of the videos at least once a week to make sure she really knew the vocabulary. I hope they come out with additional videos in the future at a higher level, because I know AJ will like them.
What We Liked
The idea of learning through watching is wonderful.
The videos were short and sweet, making it easy to fit a lesson into our day.
The workbooks and flashcards are bright and colorful.
The Curriculum Guides gave additional ideas for practicing vocabulary.
There are multiple activities that will keep your child engaged.
 You can move at your own pace.
It is more than just vocabulary practice.
The child is able to hear how the language is spoken and understand the pronunciations much better than any other program we have tried.
What We Didn't Care For
We really enjoyed this program, but there were two things that I didn't like.
The workbooks don't line up with the lessons. The Curriculum Guide tells you which pages to do, but I think it would have been helpful if the workbooks lined up better.
The videos don't tell you when to stop. I would like it if the videos could be watched a segment at a time. That way I could have her watch it on her own without having to be there to stop it. She got too into the videos and didn't like to stop them.
Overall I think it is a great way to learn Spanish, and I wish that it was around when AJ was starting to learn Spanish. If you are looking for an easy way to introduce your child to Spanish, this is the perfect program. You can go at your own pace and let your child really learn the Spanish language.
Find out what other members of the Review Crew thought of the program by clicking on the image below.