We are not classical homeschoolers, and I had no intention of teaching AJ Latin. That was until I realized that about half of the English language is derived from Latin. AJ really struggles with vocabulary so I hoped that learning some Latin words would help with her reading and writing. The problem I ran into was that the programs I looked into were either too expensive, too involved, or they required me to already know Latin. I wanted a quick and easy way to add in Latin vocabulary to our already busy homeschool day. We were recently given the opportunity to review Olim, Once Upon a Time in Latin: Derivatives I  from Laurelwood Books   and I hoped that it would be exactly what I was looking for.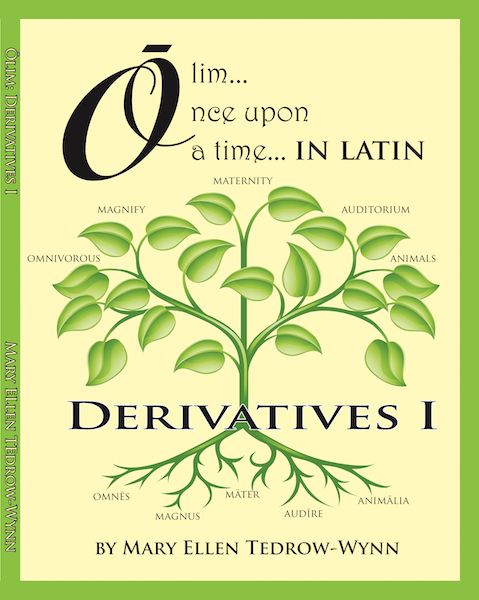 Olim, Once Upon a Time in Latin: Derivatives I
 is a 143 page soft covered workbook that is broken up into fifteen chapters. Each chapter has ten Latin words that the student should learn along with a few English derivatives. The beginning of the book has a pronunciation guide and notes for the teacher that includes a suggested schedule. It is written on a fifth or sixth grade level, but it could easily be adjusted for older or younger students.
Each lesson is designed to take two weeks. There are different activities to do each day to help your student really understand the meanings of words. The exercises are simple enough to take only a few minutes, but they are very effective.
On the first day your student goes over the Latin words, their meaning, and the English derivatives. Then they trace the words, meanings, and derivatives that are written in cursive.
On the second day the student completes a fill in the blank activity where they write the English derivative that fits into the sentence.
The third day has your student matching the English word to the Latin word it was derived from.
The next day your student completes another fill in the blank activity.
On the fifth day the student is given a sentence with one of the words under lined. They have to figure out the meaning of the word and circle it.
The next day the student is asked to write a short story using as many of the words as possible.
On the final day the student is given a word search or crossword puzzle to complete.
When the book arrived I looked through it and was happy to see that it required very little from me! I gave AJ the book and told her to work on it four days a week. The first day seemed to take her forever. There was a lot of words to trace, but she was happy that she was able to trace them instead of write them. She also liked that she was able to practice her cursive.
The rest of the lessons only took her about fifteen minutes each. With a lot of vocabulary programs she has trouble with fill in the blank activities, but she was able to do these exercises without any help from me. There was a good mix of easy and difficult words to learn and I think that helped her to learn the words. There was also enough room for her to write. The only activity we skipped was the story writing. Instead she tried to tell me a story using the vocabulary words.
I saw a few ah ha moments while she was working through Once Upon A Time IN LATIN. At one point she was working on the Latin word "mater" which means mother. She said, " Oh so that's why they call them maternity clothes." It was nice to see her learning and understanding the meanings of words.
If you are looking for a simple way to add a little Latin into your school day, then  Once Upon A Time IN LATIN  would be a great place to start. I know that we will be continuing to use this book over the next school year.
Click on the Graphic below to see what other members of the review crew thought about products from Laurelwood Books