AJ is at a difficult point in math. She has finished a few different pre algebra courses, but I don't feel that she is ready for algebra yet. She will be finishing 7th grade is a few weeks and I felt a little lost as to where I should put her for 8th grade. I decided that for her 8th grade year I was going to go through all of the math standards that I could find for first through 8th grade and make sure that she was proficient in all of the standards so that she would really be ready for algebra. That sounded great in theory, but I knew it would be time consuming. Then I learned about LearnBop, and it sounded like exactly what I needed. We were given a 12 month subscription to LearnBop for Families, since I only have one student we were given the Single Student Plan.

LearnBop
has been around for a while and has been used in public schools, but
LearnBop for Families
is a new product that can be used by homeschoolers and those who want to help their child catch up or get ahead in math. It is common core aligned, but I didn't see anything that I found odd or different from the way math was taught when I was in school. The program adapts to where your student needs to be and focuses on mastery. It is geared for kids in grades 3 to 12, but there are some lessons available at the first and second grade level.
When the parent logs on to LearnBop they create an account for their student and decide which Learning Roadmap the student should be placed in. You have three options:
Roadmaps by Grade – These are available for third through eighth grade. Your student is given a number of units to complete based on the concepts they are expected to master in that grade.
Rodemaps by Subject – If your student needs to brush up on a specific topic, or if you want to conquer math a subtopic at a time this is the roadmap you would want to pick. There are ten different options, each one varies on the grade level they cover, but there are concepts covered from first through eighth grade. I love that they offer the roadmaps by topic, they would have been great for AJ last year.
High School Roadmaps- There is the option of; Algebra, Algebra 2, and Geometry. They are the same as the Roadmaps by Grade.
The Roadmap can be changed along the way and you can even switch the order that units are completed it. There is a lot of flexibility and personalization available with LearnBop. I decided to put AJ on the 8th grade roadmap. She worked on math about 30 to 45 minutes a day during this review.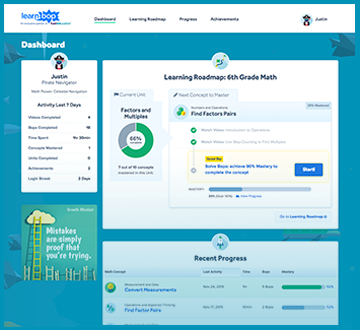 When the student first logs in they get to pick an avatar. The avatar doesn't really serve any purpose, but AJ liked it.
The next step is for the student to do a warm up for the unit they are working on. AJ started with Developing Understanding of Similarity. From the title I had no idea what that was, but it has to do with shapes on a coordinate grid and how to flip them and change them to make the shape move to other places on a coordinate grid. As I have said before, we have had a mastery approach to math in the past and AJ didn't learn a lot about geometry, so I knew that this would be a difficult unit for her.
The warm up is about ten to twelve questions. Some are multiple choice, some are fill in, some are matching and some had her plotting points. The results are not given from the warm up, but your student may find that they need to complete some Building Blocks before they are ready to work on concepts in the unit.
I normally don't like warm ups or pretests because AJ gets frustrated when she is expected to answer questions that she doesn't know how to do. Much to my surprise, we both liked the warm-ups. I think they were very accurate when it came to skills that AJ needed to work on. I wish they would have a button that says I don't know how to do this problem, or a skip button because a few times when she didn't know how to do the problem she was able to guess correctly.
Once the student finishes the warm up they are able to start on the first Building Block or Unit Concept that they want to work on.
Each concept has three videos that teach the concept to the student. The videos are like power point presentations with a teacher walking the students through the problems. There are different teachers that explain the concepts so there is a nice variety. There are also optional videos that the student can watch if they need additional help. The student doesn't have to watch the videos, but they are the main teaching portion of the program.
Once the student watches or skips the videos they move on to the Bop Section. The student needs to complete at least five Bops and gain a mastery of 90% in order to master the concept. The Bops are just the problems that the student needs to work through.
If the student needs help they can be walked through the problem step by step. If they get the problem wrong the problem is broken down into bite size pieces that they need to solve. If there are a lot of mistakes made the student may be assigned additional Building Blocks to help them understand any concepts that then need help with.
AJ ended up being assigned more building blocks in the first unit. She was upset that she had to do more work, but after watching more videos on concepts that she needed help with she understood what she was doing wrong and was able to master the concept. She often doesn't check her work and gets things wrong because she misreads problems. I noticed that she was always checking her work and making sure exactly what the problem was asking her for because it was a lot easier to go down in mastery than to go up.
It took her over five hours to master the first unit because there were a lot of concepts that she didn't understand, but unit three only took her 29 minutes to master. I like that concepts she understands can be finished quickly and that she is given more practice when needed. AJ enjoys watching the mastery graph go up and will often work on a concept until she passes it.
As the student moves along they are able to earn badges for mastering concepts, staying focused, being persistent, and other good qualities. AJ is really motivated by these badges. She also likes the fun Growth Mindset section that gives an inspirational quote to her when she logs on.
We both found LearnBop to be a great program. I am assured that she is learning the same things as her friends in public school, I can instantly see where she needs extra help, and she isn't stuck working on concepts that she has already mastered. The parent can easily see the student's progress and detailed feedback on problems that they got wrong. I think that LearnBop is a solid program. We plan to continue with the 8th grade plan over the summer and then work through the subject roadmaps before moving her on to the Algebra level. I think this will be a big blessing to us.
Find out what other members of the crew thought by clicking on the graphic below.