Lately AJ hasn't been able to do very many arts and crafts. She loves to paint and create things, but she always seems to make a mess. Between spilled water and paint that accidentally gets on the table, I say, "no" way more than I say, "yes" when she wants to get the paints out. When I heard of the new Kwik Stix from The Pencil Grip, Inc.  I was very intrigued. A lot of paints claim to dry fast, but when we try them out, they take forever to dry. I hoped that these would be different.

We received a
Kwik Stix 12 pk
and a surprise gift of a
pencil grip
. I wish that I would have had that pencil grip when AJ was learning to write! She has a very awkward grip some times, and I know that the pencil grip would have helped. It slides on the pencil and tells you where to place your fingers in order to have a proper grip. AJ has used it a few times, but she finds it a little hard to use because she doesn't normally hold the pencil correctly. There was also a chart that showed some different grips that were either correct or incorrect. The way AJ holds her pencil was on the incorrect side. I loved that there was something that showed her she was holding the pencil wrong. I am not pushing her to use the pencil grip right now, but when she uses it I do see an improvement in her penmanship.
The Kwik Stix 12 pk came with a variety of paint colors; red, orange, yellow, two shades of green, two shades of blue, purple, pink, black, brown, and white. Each stick is about three and a half inches long and resembles the shape of a glue stick. They are solid sticks of tempera paint, you simply take the cap off, twist the bottom of the stick if needed, and then use the Kwik Stix to paint something. They are non-toxic and very easy to use.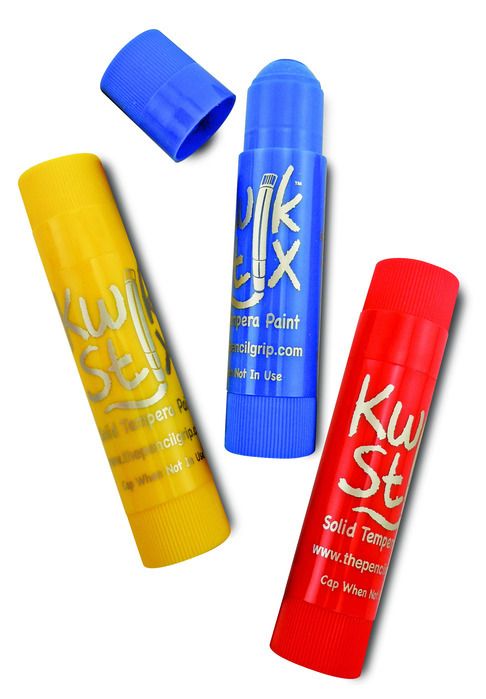 When AJ first saw the Kwik Stix she thought they looked like colored glue sticks. But when she first tried them out, she really liked them. The box claimed that the paint dries in 90 seconds, and they really do. We found that they dry almost instantly. The color goes on smooth and evenly and once it dries, it has a paint like texture. They take painting to a new level. One thing I like about the Kwik Stix is that you don't need any paint brushes or water to use them. As long as you have the paints and something to paint on, you are all set.
AJ really liked using them, and the only issue we found was that there isn't a way to mix the colors once they dry. If AJ drew a line of black and then quickly went over it with white the line did turn gray, but it had to be done very quickly. The amazing thing was that even though she mixed colors, the Kwik Stix never had the other paint transfer onto it.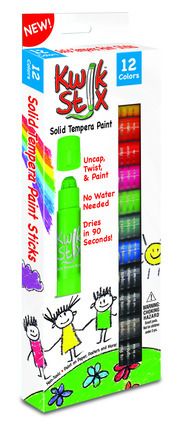 AJ has used the Kwik Stix on regular paper, construction paper, and on a cardboard butterfly. Everything she has used it on has come out great! She is doing more art projects, and I am dealing with less mess. In the video below you will see AJ using the Kwik Stix.
These Kwik Stix would be great to use with young kids. They are virtually mess free. If you are looking for a way to let your kids paint without all the mess, these Kwik Stixs are something you should definitely check out!