I have wanted to find a good art program for AJ for a long time. She enjoys doodling, but her art skills are greatly lacking. We have tried a few different programs, but they just weren't a good fit. We were given the chance to review Middle School Book One The Elements of Art and Composition from ARTistic Pursuits Inc. and I thought that it would be a good fit for AJ.
The Elements of Art and Composition is a 92 page come-bound book. There are 16 units that are each broken into four lessons. The lessons focus on different elements of art including; space, line, texture, form, depth, balance, proportion, and perspective. The lessons are written to the student making it so that most students can complete the program on their own with little help.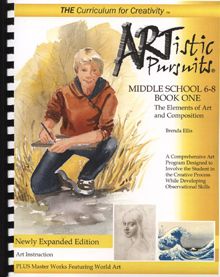 The first lesson in each unit introduces and explains the concept of that unit. The lesson has your child practice the concept in a creative way. In one unit your child is told to find an object and see how many different ways they can look at it. Another lesson has the student line up small objects and draw them a few times having some of them overlap. Each of these lessons are fairly short, but they explain the concept very well.
The second lesson is in Art Appreciation. The student is shown a piece of art that goes with the unit. There is a brief history of the culture and the piece of art, and then the student is asked to imitate the art in some way.
The third lesson is the main art lesson, it is on technique. It gives some great tips on how to achieve different looks in your art. Unfortunately, I don't feel that this section is large enough. It is only one page long in each unit. The information that is given is detailed, it even explains which pencils to use to get different effects.
The final lesson in each unit is the Application lesson. This is the section where the student is told to use everything that they have learned and to do a project. Some of the projects require a lot of time, but there are some (especially in the beginning) that only take a little while to complete.
In each lesson the student draws something.
There are 64 lessons, so if your student completes two lessons a week, the book will last an entire school year. The books are not consumable, if you have multiple children they can all use it.
I decided to have AJ work on art twice a week. The first two lessons I read to AJ and worked with her. After those two lessons I quickly realized that she would be able to do the work on her own. Each lesson took between 45 minutes and an hour. She understood the lessons, but she had a lot of problems with the drawings.
She did the best on the second lesson in each unit where she was asked to imitate part of a work of art. On the rest of the lessons there were not details of what to draw and she had trouble. On a lot of the lessons there are pictures drawn by other students. Since her drawings were no where near as good as the ones in the book she became discouraged.
I think that this level was just too advanced for her. This book is full of wonderful techniques, but if you have trouble drawing basic items, then that won't really help.
If your student has basic drawing skills and wants to improve them, then this book would help them a lot. With the different techniques and the art history, this would be a solid course that can be completed with little help from the teacher.
I plan to have AJ draw for fun a lot over the summer and then start AJ over in the book for the next school year. I think that if she improves on her basic drawing skills that she will get more from the book.
Find out what others had to say by clicking on the graphic below.