Multiplication is a subject that I had no problem with as a kid. I remember doing those colored sheets with 100 problems on them almost every day in third grade and never having any issues with multiplication from that point on. AJ is a different story. We tried dozens of things to help her with her multiplication, but nothing seemed to work. Finally after adding, counting, and working through each problem (with no help) for a few weeks she eventually remembered most of them. But there are still times when I see her take a while on a problem because she is trying to recall those facts.
Right after I had given up on making AJ memorize the time tables I heard of a different way of memorizing them. Times Tales from The Trigger Memory Co. looked like a fun way to learn. But since AJ was finally at the point of recalling most of the facts I didn't think it would really help her. That was a few years ago.

A few weeks ago we were given a chance to review a digital version of Times Tales and I was very excited to see how it worked.
Times Tales takes a different approach to multiplication. They use stories to help kids remember the times tables. Each number is represented by a different character. The number 4 is a chair and the number 9 is a tree. The other numbers have fun characters that represent them as well. There is a little story for each fact about two of the characters and in the end you learn the multiplication fact by remembering the story. It sound more complicated than it is, and really to get a good understanding of the product, the best thing to do is to get a free sample of four stories on their website.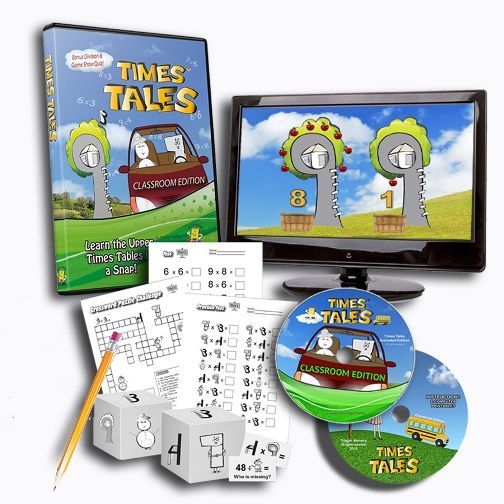 The digital download included two videos that were each a little less than thirty minutes long, a different set of printable worksheets to go with each video, and an answer key.
In the videos your child is introduced to the characters, told the story, asked to tell part of the story back, and then asked to tell the entire story. So with the stopping and starting each video ends up lasting about forty five minutes.
When we received the download I decided to print off some of the worksheets for the first video. One page included different characters as multiplication problems, another page had regular multiplication problems, there were flash cards, a game, and a crossword puzzle. I decided to have AJ do the regular multiplication worksheet. She got all of the answers correct but it took her a few minutes.
Then we watched the first video. AJ thought it was fun and was constantly trying to figure out what the story was going to be. There were times in the video when we were told to go back over the stories if she didn't remember them, but AJ didn't have any problems at all.
The next day I gave her the multiplication worksheet again and she was able to complete it a lot faster. A few days later I had her do the crossword puzzle.
A week later she did the same thing with the second video and worksheets. Obviously this was easier for her because she already knew the facts, but I did see a difference in the speed that her math was getting finished.
AJ only watched each video once, but I think that kids who were just learning the times tables would need to watch the videos a few more times. I couldn't remember the stories after watching them, and I guess that shows how different learners respond to different methods.
The videos had cute animation and held AJ's attention. I was really glad that we were finally able to try out Times Tales, the videos and overall process really work! Times Tales is something that really would have come in handy when AJ was having such a hard time remembering the multiplication facts. I think that if we would have used this a few years ago we both would have had a lot less tears shed over multiplication.