One of AJ's favorite subjects is math. We don't follow a traditional method for math, instead AJ works on a mastery based program. We have been studying math this way since she was in fourth grade. She likes that she is constantly learning new things and that she can continue to learn about a topic. We started using a mastery based program when she was learning the very basics of fractions for the second or third time. She was tired of having to relearn the basics every year, study a topic for a chapter or two, and then not work on it until the next year.
We both love the mastery approach to math, but there are a few drawbacks. The major one is that it is very easy to miss studying a skill. Last year I noticed that she hadn't learned much about geometry. I bought a few workbooks, but they all seemed a little babyish. I didn't know exactly what I was going to use to teach her geometry, but I figured I would find something. When we were given the opportunity to review two of  the Math Mini-Courses from A+ Interactive Math, I thought it would be exactly what we needed. And it was!
There are 20 Math Mini-Courses. Each course is a way to close learning gaps that your child might have. The courses are set up in a way that they start with the basic information on the topic and then go in very deep ensuring that your child really understands the topic. The courses have different amounts of lessons and range in price from $9.99 to $19.99 for year long access to the course.
Does the mention of fractions make you want to pull your hair out? Have your child try out the Elementary or Advanced Fraction Math Mini-Courses. They will learn all about fractions making math an easier time during your day.
After looking at all of the courses that are available, I decided that the two that would help her the most were; Percentages and Geometry. Unfortunately, I somehow ended up ordering the Elementary Geometry for students in 1st through 4th grade instead of the regular Geometry for grades 4th through 7th. I think we will be ordering the higher level geometry for her to use next year though, because she really enjoyed the elementary level.
AJ enjoyed using A+ Interactive Math last year, so we were familiar with how to use the program. If it is your first time using the program, there is a section that explains how to use it. Once you purchase a Math Mini-Course you will need to create a parent account and then a student account. The student should be able to use the program all by themselves, working in the student account. Any lessons completed under the parent account will not be marked complete.
Under the parent account you are able to generate different reports that show how your student did. You can see how they did on the interactive questions, which online worksheets they completed and their score, and any tests that they completed.
How the Lessons Work
Each lesson is set up the same way. The student clicks on the lesson they want to do, then they watch a video lesson. There is also the option to print the lesson in PDF form. The video explains the topic and then goes over a few different examples. At the end of the lesson they complete an interactive question and answer section. The interactive question and answer session begins with a short review of the lesson and then has your student answer some multiple choice and short answer questions. The lesson prevents the student from clicking an answer or inputting one until they have listened to all of the choices. This was great for AJ because one issue she has is that she doesn't always read all of the options, so she ends up getting the answer wrong. Some lessons only have a few questions while other lessons that she completed had more than ten. (See the photo above.)The thing that is great about the interactive questions is, if your child selects the wrong answer or types one in (Make sure they click on the frog after their answer is imputed, or it won't register that it is complete.) then they are brought back to the lesson where how to do the problem was explained and then the problem is worked out for the student. I love that they are given instant feedback! When they are done with the questions and answers they mark the lesson complete, and the rest is up to you. Some people stop at that point. But there are both printable and online worksheets for each lesson. After your child submits the online worksheet they are able to review any incorrect answers along with a step by step way to answer the problem that they got wrong.
If you want your child to have even more practice on a topic, you can also generate and print off additional worksheets. We didn't complete this step the last time that we reviewed a course from A+ Interactive Math, because I felt the; online lessons, interactive question and answers, and the online worksheets were more than enough practice. This time though, I had AJ do the printable worksheet if she missed more than three questions on the online worksheet. I think she only had to do one.
Percentages
The Percentage Mini-Course is made up of 13 lessons. It starts with an introduction to percentages, goes through converting percentages from fractions and decimals, and then goes through different word problem lessons. The course covers everything related to percentages and I am certain that when AJ completes this course (she has 4 lessons left) she will have a very solid grasp on how to work with percentages. She struggles with word problems so I am thankful that the last few lessons in this course covers them.
Elementary Geometry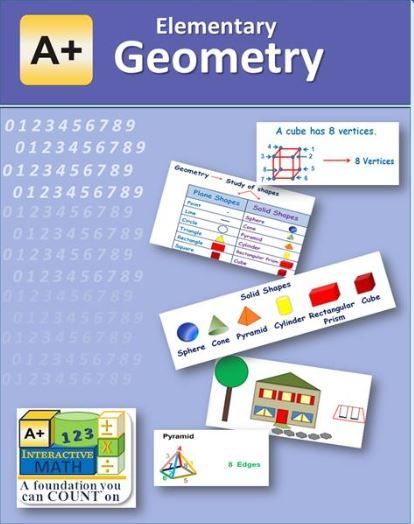 The Elementary Geometry Mini-Course is made up of 19 lessons. It started with the very basics of plain and solid shapes. It went on to cover two and three dimensional shapes and lines of symmetry. It is wrapped up with different types of lines and angles. AJ finished this course, and she did learn a few different things. I think it covers far more than a 4th grade level of geometry. We are both looking forward to having her complete the regular geometry next year. AJ really enjoyed the elementary course and was sad to see that there were only 19 lessons.
How We Used the Math Mini-Courses and What We thought About It
Since the Geometry Lessons were for kids in lower grades, I had AJ do two lessons a day. After the lesson she completed the online worksheets. For the Percentage Lessons she did one a day in the beginning and eventually as the lessons became harder, I had her do the lesson one day and the online worksheet the next day.
We really like A+ math because it is presented in a way that is easy to understand. The lessons are long enough to teach the topic, but short enough to keep her attention. I think these Math Mini-Courses are amazing! They give you a way to help your student fill in the gaps of their learning. The best part for us is that AJ can do it all by herself. The only complaint AJ had was that she never knew how many interactive questions there would be.  She would like it to say something like, "Question 3 of 17" that way she knew what to expect.
Overall we were both very happy with the Math Mini-Courses!
If you are looking for a math program to help fill in the gaps of your child's learning, then the Math Mini-Courses from A+ Math is something you should look into. Find out what other members of the Crew thought by clicking on the graphic below.