With the campaign season up and running I thought it would be a great time for AJ to review and learn more about the election process. When we were given the chance to review the HISTORY Through the Ages Hands-on History Lap-Pak: U.S. Elections from Home School in the Woods we were thrilled. We fell in love with the last product that we reviewed from Home School in the Woods, so I knew that this would be a hit!
We were given a digital copy of the Elections Lap-Pack. It includes 21 different lapbook projects for you to print, cut, and assemble, and 13 pages of informational text about elections. One other feature included (that I really appreciated) was the MP3 files of the text. This Lap-Pack includes everything you need to have a solid study on elections for students in grades 3 through 8.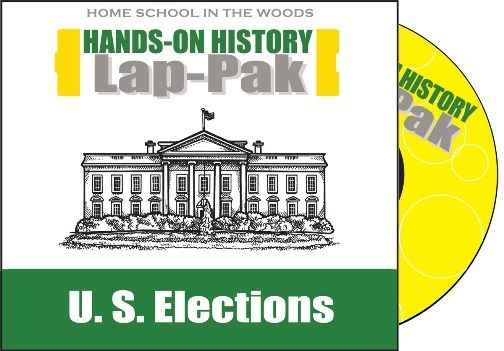 In order to complete the Lap-Pack you will need basic school supplies that you probably have on hand including things like; paper, cardstock, writing and coloring instruments, glue, tape, a file folder, paper fasteners, and ink for your printer. A few other items are listed on the supply list like liquid glue and Dura-Lar, but even without them we were able to learn a lot and complete the lapbook with no problems at all.
This Lap-Pack was a little different from most of the ones I have tried in the past. For most of the lapbook projects there is the option to print blank booklets so that your child can write the information on their own, and the option to print out the booklet with the text already printed on it. I thought that this was genius! There is a big jump in ability from kids in 3rd grade to kids in 8th grade and this small addition makes the lap-pack perfect for every learner.
We worked on the Lap-Pack almost every school day for about 30 to 45 minutes. In that time some days we were able to get two projects done and other times she finished around four. There is no set schedule, you can simply go at your family's pace. As I mentioned above a lot of the projects give the option to print the booklets with the information already filled in, or blank. I had AJ do a mixture of the two. Since she is in 7th grade I had her write the information most of the time, but for some projects we went with the already printed option.
When we started on the lapbook I printed out the text and made it into a little booklet. There is also the option to print it and add it to a folder instead. I also printed the first three lapbook projects. While AJ and I cut out the projects we listened to the text being read to us. We started off by learning the definition of election and about different types of governments. We listened to the audio through the information we needed for the third project and then we stopped the audio. Most days were completed the same basic way. AJ would answer as much information as she could remember from the audio and then read the same information in the text if she needed to. I loved this. She was able to hear it read to her and then able to read the information to herself. I found she really comprehended what she was learning this way. Although she is getting a lot better, she still struggles with reading, so that means I usually end up reading a lot of history and science to her. The audio really made this perfect – for both of us. It also made the time she spent cutting things out feel more productive.
The lapbook projects in this study were more complex than most that I have seen. The directions are very easy to understand, but you won't see a bunch of the same type of lapbook projects over and over. There are projects that have 3D elements, projects with multiple cuts and folds, projects with moving parts, and a few that require difficult cutting methods. AJ really enjoyed that there was so much variety.
By the time AJ finished this Election Study, I think she had a very good understanding of the election process. She even explained the difference between a caucus and a primary to an adult the other day.
There was only one small thing that we didn't care for. The MP3s for the audio were not separated by lesson, instead they were simply divided into two parts. The time you need to skip to in order to get to the start of each lesson is included, but I feel if each lesson was a separate MP3 file that it would be a bit easier.
Both AJ and I enjoyed this Election Lap-Pack. It is full of hands on learning and is very customizable to fit your needs. If you are looking for a fun way to learn all about the election process, I would highly recommend the HISTORY Through the Ages Hands-on History Lap-Pak: U.S. Elections! Home School in the Woods definitely didn't disappoint.
Click the graphic below to see what others had to say about the study.