I love when math can be learned from life experiences, games, and books. There is a time for workbook practice, but when you are able to learn a new concept in an engaging way, it seems to stick a lot better. When we were given the chance to review Rabbits, Rabbits Everywhere: A Fibonacci Tale from Ann McCallum Books  I thought it would be a fun way for AJ to learn about Fibonacci numbers. We were given a physical copy of the book for this review.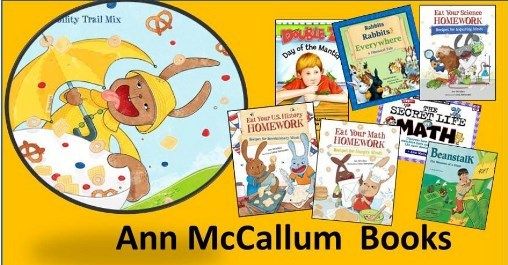 Rabbits, Rabbits, Everywhere is a full colored, 32 page, soft covered book, written by Ann McCallum and illustrated by Gideon Kendall.
It is a cute little story that begins with the Pied Piper telling the wizard on the hill that the people of the town didn't have any food to give him. This made the wizard very angry, because he knew that the Pied Piper was lying. The next day a little girl, Amanda was working in the garden when she found two baby rabbits. They had tags that said their names were Knot and Fibb. Those two rabbits quickly began to multiply. While two rabbits were fine, the large amount of rabbits began to cause problems in the town. They began eating all of the vegetables in the gardens. The people tried everything they could think of to get rid of the rabbits, but nothing worked. Finally Amanda realizes that there is a pattern in the amount of rabbits. Will her quick thinking save the town, or will the people go hungry? Was the wizard behind the rabbits, or was someone else? Read the book to find out.
The last page of the book has a little information about the man who was known about Fibonacci along with a little explanation about Fibonacci numbers and where they can be found in nature.
When the book first arrived I read through it, the next day instead of our normal math and literature studies I had AJ read the book. She was happy to take a brake from her regular studies. As we read it we talked about some literary elements and themes (there was a lot to learn in this little book) and when Amanda was figuring out the pattern in the book, I had AJ try and see if she could find a pattern in the number of rabbits.
She worked on trying to figure out the pattern for a little while, trying adding numbers, multiplying them, but she didn't figure it out. Then she read the rest of the book and realized that the pattern was right in front of her. After reading the book we did a little research on Leonardo Pisano who was known as Fibonacci.
What We Thought About Rabbits, Rabbits Everywhere: A Fibonacci Tale
We thought it was an adorable children's book that has an interesting story. There is some mention of spells, wizards, and magic, so those who have an issue with that should be aware. I think this book was a great way to introduce a different mathematical concept to kids. I think I may purchase a few other books by Ann McCallum in the future.
Members of the Review Crew were given a few different books by Ann McCallum to review, check out their reviews by clicking on the graphic below.