Finding the right Bible study for my 12 year old has been difficult. She needs something that gets her reading the Bible, and helps her understand it, but something that doesn't require too much writing. Since she dislikes writing, I have found that programs that require a lot of writing are often a struggle. I want her to enjoy our Bible time, not dread it.

I have heard about GrapeVine Studies before, but I thought they were just for younger kids. I was happy to find out that they are for a variety of ages. We were recently given the chance to review Birth of Jesus: Multi-Level from GrapeVine Studies. We received a physical copy of both the student book and the teacher manual.
GrapeVine is a Bible study curriculum where your child draws stick figures as they go through the Bible. Activities vary in each level, but as your child gets older they learn Biblical timelines, geography, and how to use different Bible study tools.
To complete this study you will need a Bible, colored pencils, markers, access to a Bible dictionary, and atlas or map.
Birth of Jesus: Multi-Level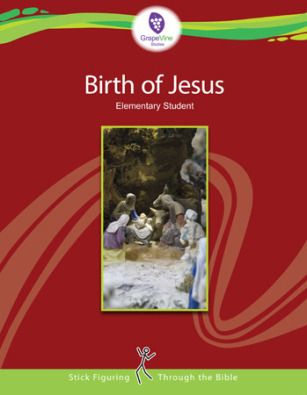 The Birth of Jesus: Multi-Level is for kids ages 7 and up. Depending on your needs, the study includes suggested schedules for both daily and weekly lessons. It should take 5 weeks to complete. This study covers from the time the Angel Gabriel spoke to Mary until the death of Herod. It contains a timeline of the events and a final review along with four weeks of lessons.
The Announcement
The Birth of Jesus
The Proclamation
The Wise Men and Herod
The books are available as physical copies, or e-books. We received the physical copy. It is a stack of loose leaf pages that have been three hole punched, so you can easily put them in a notebook. I decided not to put them in a three ring binder. Instead I kept all of the sheets in the plastic they came in and pulled out the pages she would be using for the week. As each lesson was finished I put it in her binder.
The teacher manual is printed in color and gives a detailed script that you can follow and sample drawings.
How We Used It
The first week your child draws a timeline for events for the entire study. During this time you give basic information about characters and events. This time line was 8 pages long. After AJ finished drawing the timeline we started in with the first lesson. We went with the daily lessons. Each lesson only took about 20 minutes for AJ to complete.
What does a week look like?
Each lesson was spread out over a week. The lesson starts off with a quick review of the lesson from the previous week. The student draws some of the events from the time line and reviews the memory verse.
Using the teacher's guide you read selected verses from the Bible and discuss them with your children. Then they are told to draw something. During the week we were on lesson 2 AJ was asked to draw seven different scenes from the reading.
Joseph Heard the News
Joseph's Decision
The Angel and Joseph
Joseph and Mary
The Decree
Bethlehem
Birth of Jesus
An example of what your student can draw is given in the teacher's guide, but your student is encouraged to use their creativity.
After reading and illustrating a few scenes your child is then suppose to look up a short list of words in a Bible dictionary.
There is not a specific place for the student to write the definitions, so AJ just wrote them on a separate sheet of paper.  For some definitions we used a dictionary online because our Illustrated Bible Dictionary didn't have all of the words. ( I think it's time to get a better one.) Throughout the study your student will also be asked to label six different areas on a map. AJ decided to label the entire map during lesson 1, but there should have been map work in this lesson.
Once all of the scenes are illustrated there are review questions. Again there is not a specific place for your child to write these, they can even be done orally. The final page of the lesson has the student draw their favorite part of the lesson and write (or recite) the memory verse of the week.
What We Thought
I like how easy this study was for me, I was able to simply open and go. The teacher's guide is definitely a requirement and was full of useful information. I love how in-depth the study was. AJ was familiar with the Christmas story, but she didn't know all of the details. Now she has a deep understanding of what really happened. This would be the perfect study to do in December leading up to Christmas!
The best part of this study is that AJ is learning and enjoying Bible time. The lessons are short enough that I don't feel rushed to fit them into our schedule, and there was enough repetition that she is remembering the details of the stories even after the study was over.
AJ likes that she gets to draw. Even though I required her to write the memory verses, definitions, and review questions, she didn't feel like there was too much to do. I  only used this with one student, but it looks like it would be easy to use with a group of students at different levels.
I would highly recommend this study to anyone looking for a simple to use Bible study that kids enjoy. It has been a real blessing for our homeschool and I hope that we are able to use another GrapeVine study soon.