There are so many educational apps for lower elementary aged students, but as AJ has gotten older there are not many available. Games for her age seem to be just for fun and have no real value. I am all for a game that is just fun some of the time, but if she wants to spend a good deal of time in front of a screen I would really like her to learn something.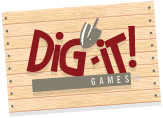 When we were given the opportunity to review an educational computer game from
Dig-It! Games
, we were both ready to try it out. We reviewed
Mayan Mysteries
.

Mayan Mysteries
is an online game for kids in 5th to 9th grade. We reviewed the online version from my laptop, but it is also available for iPad.
It starts of with a comic book like story. The story is that there has been a lot of looting and artifacts dug up in Guatemala.  Chief Mateo is given a clue, but needs help to solve the mystery. He enlists the help of team Q (which includes the player) to find out what is going on. Throughout the journey you have to prove yourself worthy and try to find the mythical city of Ich'aak.
The game takes you to different archeological sites in South America. At each site you find team Q along with locals from the time of the Mayan. You can click on any of the people and one of two things will happen. Most of the time when you click on a person there will be information about the Mayans or some part of their culture. You can read it, or have it read to you. The information is given from each character's point of view. Once you read it there is a little quiz. In order to pass the quiz you have to pay attention to the information presented, and use common knowledge. Some of the questions were difficult. There is so much information given, way more than I was expecting!
About two people from each site will take you to a game or activity. There are a lot of different games. Some have you deciphering hieroglyphics, others have you excavating artifacts or solving puzzles. There were math and logic puzzles and games where you had to do a scavenger hunt through a tomb. Each game is fun and exciting, but most of all educational.
As you complete tasks in each area, more of the storyline is given and you explore other areas. In the end of the game, if you have proven yourself worthy, you find out who the thief is and you may or may not end up finding the city of Ich'aak. (You will have to find that out for yourself)
We started with Mayan Mysteries right before our second week of school. AJ woke up sick and whiny so we decided to just work on a few things. We started with Mayan Mysteries and about three hours later I had to make her get off. For the rest of that week she played on the Mayan Mysteries game a few hours a day. By Wednesday of that week she saw that her name was on the leaderboard. Then it was a race to the top, she wanted to earn enough points to make the top 5. The following week she finished the game. She ended up second place on the leader board, and as of when I typed this, she is still there. It was self explanatory and easy for AJ to navigate.
She loved the game. She thought it was fun and challenging. She even enjoyed learning new topics. Even though she was capable of reading the text we set it up so that the characters read her what was said. This was huge for her. I expected generic voices to read the text, but that was not the case. Each character had a different voice and personality which brought the story to life. It was like an audio book and a game all linked together. She had never studied the Mayans before so everything she learned was brand new to her.
The graphics were beautiful, and the story line was easy to follow. It really felt like we were being talked to by people from an ancient civilization. I think there was a great balance between learning and fun. I learned a few things along the way as well.
The only thing we didn't care for in the game was the spirit animal that is your guide and the focus on Mayan religion in the beginning of the game. I don't think the religious focus could have been avoided because the Mayan people were very spiritual. I just have a personal issue with learning names of gods (including the Greek and Roman ones) so I didn't care for some of the questions about the Mayan gods.
The best part was how much AJ enjoyed it. I saw her reading directions for games, solving difficult math equations (their place value system was quite different), learning geography, and learning about a different culture.  This took a boring subject and brought it to life better than any book or movie could have.
This program could easily be the basis of a history study. AJ went through it quickly, but I think it could easily be used over a month or two to study the Mayan people. It is a great game that is very affordable.