AJ recently had the chance to review an amazing online math program from UnLock Math, UnLock Pre-Algebra. We were given year long access to the course.
UnLock Pre-Algebra
is a full pre-algebra course that is taught by an energetic math teacher, Alesia Blackwood. Utilizing interesting videos, lessons that break concepts into bite sized pieces, and constant review, your child can gain a better understanding of math!
UnLock Pre-Algebra is broken up into 16 units. It begins with a few review units that cover topics your child may already know, and gets progressively harder as the units go on.
When your child logs on to the program they are taken to their home page. This page has all of the units available so your child can jump to a section that they need extra practice in, or do the course in order. The home page has their course average and their progress in the course in a colorful graphic. If a unit is clicked on then there will be a graph on the bottom of the home page that shows the progress for that unit. There is also a downloadable pacing guide to help you through the course and a welcome letter that explains more about the course and how grades are configured.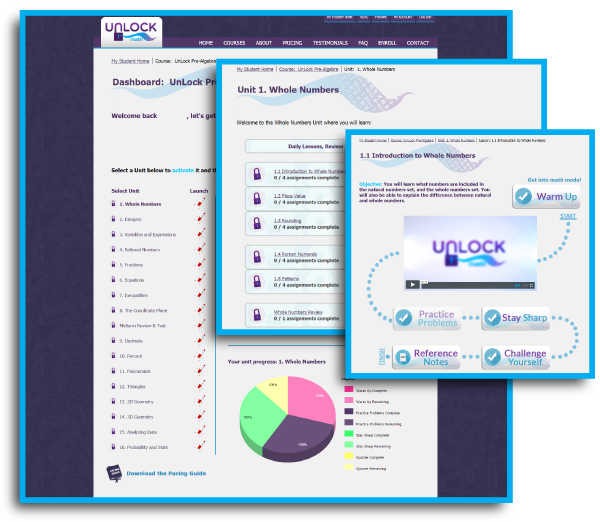 Once a unit has been launched there is a screen with all of the lessons, quizzes and tests for the unit. There is a short quiz (less than 10 questions so far) after every two lessons. The units each end with a review and a final test. Your student has access to all of the lessons and tests and can do them in any order, but I would recommend doing them in order.
How UnLock Math Works
The lesson format is the same for each lesson. It is set up where you follow a path to complete the lesson. Each lesson starts with a Warm Up. The Warm Up is usually about 5 questions long and covers topics previously covered, and basic math skills.
Following the Warm Up is the main part of the lesson, the Video. The videos vary by length, but I would say they range from about 5 to 10 minutes each. The videos are humorous and teach math the way I remember being taught. I love how the teacher starts with a simple topic and then takes it to a new level. She has an amazing way of explaining math topics! She works out problems and shows step by step how to solve them.
After watching the Video the student completes the Practice Problems. The student answers 10 questions that are directly related the lesson they just finished. Following the Practice Problems is a Stay Sharp section. In this part of the lesson, the student answers about 15 questions about anything that has been covered in the course up to that point.
For extra credit there is a Challenge Yourself problem. These really vary, some AJ was able to answer with out any problem, and others I walked her through. She really enjoyed this section.
Each lesson also has a Reference Notes section that has a printable page of the information that was presented in the video.
For each section the student is only shown one problem at a time so they are not overwhelmed by an entire page of problems. At the end of each section the student is given their score and they can see each problem worked out.
What We Thought About UnLock Math
AJ was able to log in to UnLock Math each day and complete her lesson with little assistance from me. It is easy to navigate and was really self explanatory. The first two units were fairly easy for her and she had lessons finished in about 30 minutes. When she got to the third unit it started taking her about 45 minutes for each lesson because she had to work out harder problems.
We both loved this math program! The videos were well made and interesting. Having a person who is engaging and full of life work out each problem really made a difference, AJ didn't lose interest. AJ is a math lover and this program has helped her to love math even more. Normally she hates review problems since she wants to constantly learn new concepts. I wondered how all of the built in review was going to go over with her, but she never complained! I think the fact that there were a few problems at a time made it more manageable.
The only thing that I would change would be the number of review problems before a test, and the number of questions on each test. The last test she took had 50 review questions, and she was getting a little restless after about 30. The great part is that you have the option to save the work and finish it at a later time.
One unexpected benefit we found was that she learned quite a bit of math vocabulary. I have never really made her memorize the different properties of addition or roman numerals, but this course made her. And it wasn't for just one lesson. She learned about roman numerals in unit 1, and had questions about them in the last few lessons of unit 3.
I have also noticed her being more careful with her math. Some questions are multiple choice, but a large amount of them have the student enter the answer manually. She has to focus and make sure she enters the negative sign, or that she has the numbers entered correctly.
AJ's favorite part is that there is no offline work! Everything is done online with no writing other than the writing needed to work out the problems. At first I will admit that I was skeptical that there would be enough work, but she has completed 3 units and has a 97%. She is able to do a lot of addition and subtraction of negative numbers in her head, and her multiplication has gotten a lot faster. She is able to answer questions about things she learned a few weeks ago, so that tells me she really learned and understood the topics, she didn't just momentarily learn the concept and then forget it.
We have tried out a lot of math programs, and when I gave AJ her choice of which math to use for her 7th grade year, she picked UnLock Math. I think this is a great program that will help your child understand math! It really is the answer for homeschoolers who want a math teacher to explain all of the hard topics.
The wonderful people at UnLock Math have offered my readers $100 off of an annual purchase of a course! Click for your discount code. Offer ends August 18th.