AJ is a hands on learner who enjoys lapbooks. The more activities involved in a project, the more she learns and remembers the topic. I try to bring as much fun into school as possible, but sometimes putting it all together can be time consuming. When we were given the opportunity to review the Project Passport World History Study: The Middle Ages, from Home School in the Woods we were both excited. History has never been our favorite subject, but if we can bring it to life it makes the subject so much more enjoyable.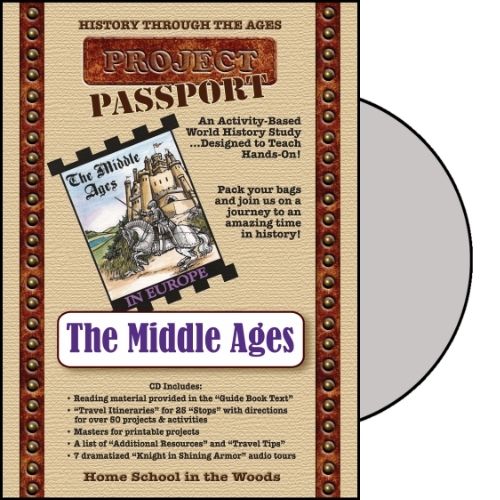 It is available as a digital download (which is what we received) that is compatible for both Mac and PC or as a CD.
The Project Passport for the Middle Ages is a 25 stop unit study all about the Middle Ages. It is designed to take between six to twelve weeks, but I don't see how anyone could finish it in six weeks! It is packed full of information. You are touring the Middle Ages learning about different topics as you go. The first three stops on your trip cover background information to bring you up to date on the topic. You also set up your passport and gather your materials. Using the guidebook, audio tours, timelines, crafts, and other hands on activities, it brings the time period to life. Throughout the study your child creates a newspaper, a scrapbook, a lapbook, and many memories all about the Middle Ages.
We received a digital download that included; texts for each stops, itineraries for each stop, masters for all of the projects and worksheets, audio tours, teacher keys, printables for the notebook, and a guide full of tips and additional information.
At first I was a little overwhelmed with everything that was included. But I soon realized that if I took everything step by step it was all broken down and told me exactly what to do. We decided to print the itineraries but to read the text off of the computer.
Each week I would pull up the itinerary for the stop we were working on and follow the directions on what to print. I love that it tells me what to print and how. It tells what to print on cardstock, plain paper, and what needs to be printed on white paper. It even tells when to print a page on the back of another page. If you follow the directions it really is fool proof.
Once everything was printed for the week I would put the papers in her notebook and when we worked on history we had everything we needed.
There are a variety of activities in each stop. Some took longer than others. We started each stop by reading new information from the text. We found the information interesting and well written. There were a lot of facts in the reading, but it wasn't overwhelming.
After the reading was finished she would cut out timeline figures to add them to her snapshot moments pages. These were neat, and since we were learning about things from different time periods it helped to keep everything in perspective. The directions called for her to color the pictures, but she doesn't like to color so we decided to leave them plain.
When that was finished she often had a post card to read and color. This was one of the activities that helped to bring the Middle Ages to life! The post card came from a famous person from the period and gave their perspective on a subject.
Often she had to add an article or drawing to the newspaper. She had the hardest time with this project because she struggles with creative writing. The assignments are short and should be fun.
Some days there was an audio tour. The audio tours were amazing and by far her favorite part. They are professional quality and introduce you to various people from the Middle Ages. We met a quite a few different people and learned a lot about how they lived.
There are map projects, lapbook pieces, and hands on projects with each stop.
One of AJ's favorite projects so far was the Middle Ages puppets.
Overall the Project Passport World History Study: The Middle Ages is a solid history program. It is full of learning opportunities and makes a boring topic entertaining. The numerous activities help your child to really remember what they are learning. It doesn't just focus on dates and places, but the people as well. The author includes lists of books, movies, and audios that can enhance the study. I love that we can take each topic as in depth as we want.
We had planned to use a different history curriculum for the upcoming school year, but AJ is learning so much and enjoying history again so we are going to finish this one and if finances allow, we will do the Renaissance and Reformation one next.
The main downfall to the program is the amount of printing. It uses a lot of ink, paper, and cardstock. It was a little confusing at first with how to get started, and it is more time consuming than other programs. For us, the fun element overrides the downsides. We can't wait to continue learning about the Middle Ages.