Institute for Excellence in Writing (IEW) is a name that I have heard since I started homeschooling AJ. I was told wonderful things about the program and that it would really help my struggling writer. The first time I visited their website, sticker shock hit me. The program is expensive at first glance, and I couldn't see how this program could be different enough from every other program that we had tried, to justify the cost. After a while of other programs not working, and AJ still struggling,  I was going to bite the bullet and purchase the program from IEW. Unfortunately, we hit some hard times financially and that wasn't possible. A few weeks ago we were given the amazing blessing of being able to review two products from IEW –   Teaching Writing: Structure and Style, and Student Writing Intensive Level B.   The Student Writing Intensive Level B is for kids in grades 6 – 8 while the Teaching Writing: Structure and Style is for the teacher.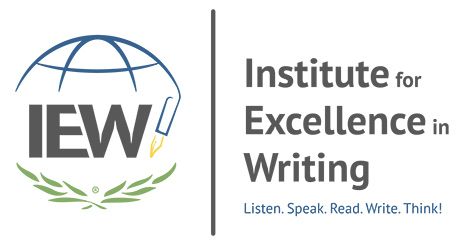 I stocked the mail box waiting for our package to arrive. AJ struggles with writing, and since writing always came easily for me, I didn't know how to help her. Why couldn't she just write? I opened the box and was amazed and a little overwhelmed  by everything I found!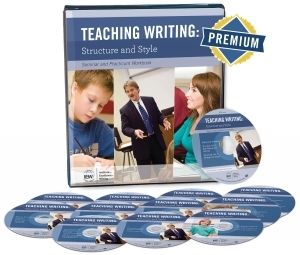 Teaching Writing: Structure and Style came with a nice sturdy folder, over 200 pages of printed material, 12 different dividers, and a black DVD case with 12 DVDs in it. This is the newly filmed and updated version, but since I haven't viewed the previous version I can't say if it is any better. I also received year long access to monthly webinars, streaming products and more available online included with my Premium Subscription.
I glanced at the getting started page and quickly put together my folder. I love it when products take out the guess work and tell you what to do!
Teaching Writing: Structure and Style is amazing! It is a recorded seminar taught by Andrew Pudewa that teaches parents/teachers how to teach writing. He teaches a successful method of writing that was developed by Anna Ingham, C.C.M., and J.B. Webster, PH.D. There are over 14 hours of instruction on the DVDs. The folder is full of examples and even more information. The first 9 DVDs cover the 9 different units of the writing program. The last three have demonstration lessons and additional information.  Throughout the DVDs Mr. Pudewa teaches each unit and even gives you writing assignments to help you see what your student will be doing. While you could sit and watch all of the videos at once, I decided to stay one unit ahead of AJ. She is working on unit 3 right now and I just watched unit 4.
To say I learned a lot from the Teaching Writing: Structure and Style DVDs would be an understatement! I learned more about teaching writing in the first DVD than I have from every other program we have tried put together. I had quite a few "ah ha" moments while watching the videos. Mr. Pudewa presents things in an easy to understand manner, speaks clearly, and even throws in some humor. The time flew by while I was watching the videos because I enjoyed watching them. He explains why some kids have a hard time writing, but he also explains how to help those who enjoy writing. When I was finished watching the first DVD I actually felt empowered and like I really could get AJ to write. I haven't watched all of the DVDs yet but I have learned so much already.
This program can be used to teach writing as a stand alone program. Each year your student should cycle through each of the 9 units, learning more and more each year. I could really see this program working well that way. I said how the program is expensive at first glance, but when you think about how much use you can get out of it, the price actually seems very good.  It can also be used with the Student Writing Intensives, or many of the other programs on their website.
The other item in our box was the Student Writing Intensive Level B. It came with a DVD case containing 5 DVDs one introduction for the parent/teacher and 4 DVDs filled with lessons for the student. It also came with a folder, five dividers, some different charts and worksheets to be used during the program, and a printed out Teacher's Guide that is over 90 pages long. The Teacher's Guide has the printouts for the lessons as well as a suggested schedule, examples, tips, and more. I stuck the Teacher's Guide in the front of my Teaching Writing: Structure and Style folder, put AJ's folder together, and watched the Overview DVD. The Student Writing Intensive Level B is a video recording of Mr. Pudewa teaching a writing class to a group of students. The course was originally taught over 4 days. Additional practice passages were added and the course now covers 30 weeks of writing.
The next day we were suppose to start the program. I was excited, but AJ wasn't. She didn't even want to try another writing program. She woke up "sick" but by the afternoon she was well enough to start school. I gave her the folder and the first printout. We put the DVD in and started to watch it. Mr. Pudewa caught her attention right away, she thought he was funny. He talked about how he didn't like to write as a child and asked how many kids were dragged to the class and may have even faked sick to get out of it because they don't like to write. Her hand shot up! The first lesson went well. We had to stop and rewind the video a few times so that she could copy some things, but by the middle of the lesson she was keeping up fairly well. The first lesson had her copy a keyword outline that he had made with the class and then write it into a paragraph. I have never seen her write so quickly and easily. She even said she liked the program!
To really understand how her writing progressed I need to share a paragraph she wrote before the program. Keep in mind she is in 6th grade and that this took over a half hour to get her to write.
Moses lifted his hands and split the Red Sea. The Israelites walked across dry land. Pharaoh's army chased them into the sea. Then Moses lifted his rod and God closed it. Then the Egyptians drowned and they died.
Here is the paragraph she wrote after the first day of the program. It is not perfect, but it is a big improvement! The best part is that she wrote it in about 15 minutes.
Sea wasps are the most venomous jellyfish. They are poisonous. They are worse than any snake. Sea wasps, which are difficult to see, will sting people and cause the person to die in seconds. They search for shrimp on the beach, which makes them close to the swimmers. There are no sea wasps in America or Europe. They are only in Australia. They can use their neurototin to kill over 50 people. Sea wasps are the deadliest creatures alive!
Each day AJ would either watch the next lesson on the DVD, work on another source text, or edit her paragraph. Each lesson has a check list of things that have to be included in her writing. As the lessons progress more is added to the check list. This is her paragraph from her last assignment she did in unit 3, Retelling Narrative Stories.
Alice was tired of sitting next to her big sister. She was just sitting there doing nothing. Then, Alice saw a white rabbit who was taking to himself yelling, " I'm late I'm late for a very important date!" The White Rabbit took out a big shinny pocket watch and hurried away quickly. Alice jumped to her feet because she had never seen a rabbit with a pocket watch before. The white rabbit scuffled down the rabbit hole. Alice zoomed down the rabbit hole after him, but how was she going to get out?
I think it is clear to see that her writing has improved. There are still some errors, but I feel like we are going in the right direction. There haven't been any tears over writing, and she looks forward to the lessons. I have learned how to teach her, and she has learned how to write. I could write an entire post about the things I was doing wrong when I was trying to get her to write. I feel this program really was an answered prayer for both of us!
We loved the short lessons, the fun to watch DVDs, the detailed notes and lessons, and most of all Mr. Pudewa. We are putting this to the side since we only have one more week of school, and will pick it back up when we start school again. When I told AJ we were done reviewing the program, she was upset because she really liked it! Coming from a kid who hates to write, that says a lot! The only downside we have found is that the price may make it unaffordable for some families. You really do get a lot for your money, and I would recommend it any day. IEW is really as good as everyone says, it not only met my expectations, but greatly exceeded them!