AJ has a great dislike for reading. She loves math, science, and history, but don't ask her to read. On the other hand, she loves games, if those games can have an element of math and science, then we usually have a winner. I love getting lost in a story and could get stuck in a good book for hours at a time, so I have been looking for a way to help AJ gain the love of reading that I have. Enter the latest product that we were blessed to review as part of the Schoolhouse Review Crew, Orphs of the Woodlands. Orphs of the Woodlands is an amazing product created by Star Toaster.
We were given a year long access to the first book, The Treasure of High Tower. The normal subscription is for 60 days and is good for up to three children. There is also the option to extend the subscription for 30 days if your child hasn't finished the program within the first 60 days. It is an online program so you will need a good internet connection, but you should be able to use it on any browser. We used both Internet Explorer and Chrome and had no issues at all.
What is Orphs of the Woodlands?
In very simple terms, it is a online book with learning and games intertwined. But it is really so much more! When you sign in to Orphs of the Woodland you are taken to a spy job application.  The WAK underground is looking for trustworthy spies to help save the Woodlands from the Night Creatures who are destroying the Woodlands.
This is where the fun begins! Your child gets to pick an alias for the main character in the book. The main character is male, so AJ decided that her squirrel would be named Tommy. Once your application is submitted you are taken to your journal. In your journal is a 15 chapter book told from your character's perspective. (The book is over 350 pages)
Throughout the book there are interactive learning opportunities. Vocabulary words are highlighted and when you hover over them you are given the definition, or a list of synonyms. There are quotes and Latin phrases that are highlighted as well. When those are hovered over you are given the meaning of the phrase or more information about the quote. There are portions where sound clips are included and videos as well. It is so much more than a book!
The first chapter lays out the story. It tells all about the Night Creatures, Orphs (orphaned animals), gold stars (the currency of the Woodlands),  Ivythwaite, and High Tower.
After the first chapter, (and each other chapter you read) you have to complete jobs to earn gold stars so that you can take care of your Orphs. Jobs are based off of skills learned throughout the book.
Before each "job" there is a lesson on the topic. Some of the lessons are written pages for your child to read, and others are fun videos where Professor Forp teaches you a lesson. Professor Forp is a fun character who encourages you to seek out, "New Information Daily!"
The jobs you do vary with each chapter but they include:
Math– covering topics such as; place value, decimals, basic algebra concepts, lines and angles, mean, median, mode, circles, and more.
Science – covering numerous animal facts and a few other topics.
Language – covering Latin, basic grammar, homonyms, and more.
Vocabulary – covering numerous word families.
Thinking Skills – covering comprehension questions and memory skills.
Character – covering character skills and inspirational quotes.
Life Skills – full of wonderful recipes from the story.
The Arts – covering basic art subjects like; color, design, and tessellations.
In the beginning your child earns 6 gold stars for each correct answer on a job. As they get more correct answers they move to the next level and eventually earn more gold stars for each correct answer. The trick is that if you answer a question wrong, you don't get paid, and you don't have a way to earn those missed stars back again.
What are the Gold Stars For?
That is where the game part of the program comes in. Using strategy you have to decide how to spend your gold stars to best take care of your Orphs. Which land should you purchase? Should you do projects to lower the cost of taking care of your Orphs, and if so which ones? You have to be careful because if you don't have enough stars to take care of your Orphs, then they will leave and not come back!
 How did we use it?
This program is geared for kids in grades 4 through 7, but I really think it would be good for grades 4 and up. There isn't a set way to use it, so I had AJ work on it throughout the week for as long as she wanted. Most days she completed a chapter and the jobs for the chapter, but with some of the longer chapters she only made it halfway through the reading and we would pick it up another day. Since she dislikes reading so much I decided to use the program with her and share the reading. The book was very interesting and I enjoyed it.
If you can't or don't want to read with your child that is okay too. There is a parent log in where you can find out how your child is doing on the lessons. You also will receive emails from Star Toaster updating you about what your child will be learning and their progress.
The program was very easy to navigate. AJ did most of it on her own. Using the menu at the top she was able to get to the book, her job list, and her timeline with ease.  We found everything self-explanatory and easy to understand. The best part is that there are helpful videos that explain every portion of the game if you can't figure something out.
We also took the learning off line. There was a lesson about how to estimate the height of a tree that we tried and a lesson about PH and acidity that she did. I noticed that the lessons on homonyms helped her in her writing as well.
What did we think?
We LOVED this program. It was the perfect fit for AJ! It has it all; an intriguing story where she is part of it, vocabulary words that are explained so she can understand what she is reading, fun bits of math and science sprinkled in, and a game where she gets to help others. She enjoyed trying to figure out who the good guys were and who was working with the Night Creatures. The story had  mystery and comedy while focusing on good character qualities and the value of knowledge.
She loved Professor Forp. He was funny and really explained subjects in an easy to understand way. I loved that the jobs she had to do forced her to really pay attention. At first I didn't like that she couldn't redo a problem if she missed it, but she only ended up missing 3 questions in all because she didn't want to take a chance of not being able to care for her Orphs, so in actuality it was really a good thing!
AJ's only complaint was that some of the chapters were too long. I agree that a few of the chapters were long, but I don't think they could really be broken down any further to keep with the story.
After finishing the book AJ was actually upset! She didn't want the program to end. The next book will be coming out soon and she really wants to read it. This program has sparked AJ's love of reading. We finished the book, but she is reading it again because it was so much fun. When this kid willingly reads something a second time I think that speaks for its self. Star Toaster has a real winner with this product!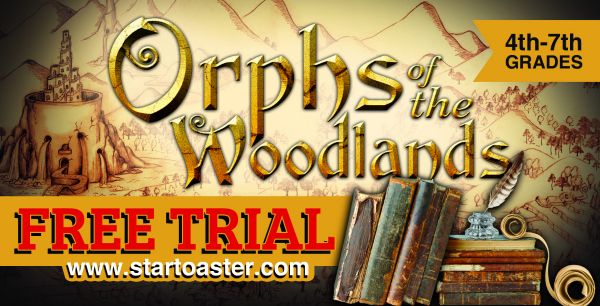 If you have a reluctant reader, or a child who loves to read, you should checkout
Orphs of the Woodlands 
! The best part is that they are offering a free trial where you will be given access to the first 100 pages and the jobs that go with those pages. This program sparked my child's love of reading and hope it will do the same for your child.